Syria conflict: The Lebanese town living under fire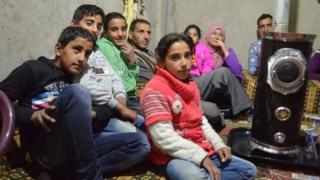 From where I'm standing - on Lebanon's northern border - I can see Syrian government soldiers talking and moving about.
They appear to be staring in my direction. A local man next to me warns me not to take any photos.
He explains that a local TV cameraman was shot recently by Syrian soldiers for doing just that. The fact that I'm standing on Lebanese territory clearly provides little if any protection.
"Just last night this area was turned into a ball of fire with the Syrian soldiers firing artillery and bullets into the town," said the mayor of this part of Wadi Khaled, Rami Mohamed Hazal.
"It was terrifying and many people fled to escape the shelling."
Such events, it appears, are far from unusual here.
"Not long ago a house was shelled and a girl was killed. A man on a motorbike got shot just around the corner here and three people were killed close to the border over there," the mayor said.
He told me that over the last year, the population of Wadi Khaled - which is just a short drive from Syria's war-torn city of Homs - has been swelled by as many as 10,000 Syrian refugees.
'Life in terror'
There are no camps for them, and most have been given shelter by largely impoverished but generous locals.
Such people, the mayor told me, are mainly Sunni Muslims - like the bulk of rebel forces.
As a result they are viewed with suspicion by Syrian government soldiers. That fact, and reports that Free Syrian Army (FSA) fighters sometimes cross into Lebanon and fire on Syrian army positions, may help explain the shelling and mining of much of this area.
Wadi Khaled, which is a collection of more than 20 villages in a valley, is one of the poorest parts of the country.
Before the civil war next door, many people here - most of whom have relatives in Syria - would frequently cross the border to buy cheaper food, medicines, fuel and cigarettes.
Now comparatively few use the official border crossing for fear that they either won't be allowed in, will be stopped from coming back or worse still.
Even the area's smugglers have given up trying to get in.
Akram, which is not his real name, was one of many young men who would earn a living by making numerous cross-border trips each day.
"You see the motorcycle over there," he told me, "I used to drive over the border and buy diesel. It cost just $5 (£3) there and $7 here. After bribing the Syrian soldiers, I could make around $10 after doing nine or 10 trips."
Akram will not risk that now. Much of the border is heavily mined. Six months ago, his brother stepped on one while trying to cross over and lost one of his legs.
A local mother of five, Raya al-Hamoud Aoueishi, lost her 25-year-old daughter Nadia, who died near their home in a hail of shelling in July.
"We were running from the house when the shell hit. We had thrown ourselves to the ground but it landed very near where my daughter was. I picked her up, but she died in my arms," Raya said.
Since then, Raya, who tearfully clutches a photo of Nadia, insists the shelling and sniping has continued on an almost daily basis.
"That is why we run away sometimes. We live in terror. At any time shells or Syrian soldiers may come," she added.
'Nowhere to go'
Journalists or other outsiders wanting to visit Wadi Khaled have to first get a permit from the Lebanese army - though don't expect any protection when you are there from them.
Lebanese forces, which have long been outmanned and outgunned by their Syrian counterparts, appear more intent on stopping the insecurity that pervades this valley from travelling any further into Lebanon. To this end military checkpoints ring its periphery.
As night begins to fall, the people of Wadi Khaled grow nervous.
Mohamed Hamadi lives with his family on a finger of Lebanese soil sandwiched between Syrian territory.
In the daytime, he worries about not being able to feed his children properly, but at night his main concern is helping them to stay alive..
"Tonight, we will sit in a room that is behind a wall, a support wall or something solid that can protect us from the shelling. If someone gets hurt at night you can't take them anywhere. You have to either carry them or take them in a car with the lights off."
"Last night we hardly slept at all. The children woke to the sound of shelling and began crying," added his wife Amal.
But she accepts that there is only so much she and her husband can do: "We have nowhere else to go, so what can we do? If the shells hit us and we die, then that is what God wants."
Thousands of Syrian refugees who have sought sanctuary here may well be adopting a similar attitude.
For now all they and the people of Wadi Khaled can do is to wait and see how long President Bashar al-Assad's regime survives.