Syrian minister Mohammad Shaar 'in Beirut hospital'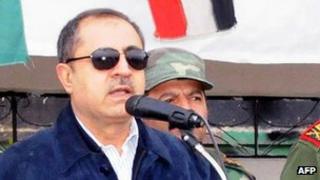 Syria's interior minister has been admitted to hospital in the Lebanese capital Beirut after being wounded in a bombing in Damascus, reports say.
Mohammad Shaar was apparently caught up in an attack on the interior ministry last week in which several people died.
The exact nature of his injuries isn't clear but they are not believed to be critical.
At the time of the triple bomb attack, official Syrian media said he had not been injured.
The BBC's Jim Muir in Beirut says it is unclear why Mr Shaar should have been brought to Lebanon for treatment.
There are still functioning hospitals in Damascus, he says, although they are heavily overloaded with about 100 casualties arriving daily at the main facility.
"The minister arrived at 7.30pm (17:30 GMT) at Beirut airport, and he was taken to the American University Hospital," an unnamed Lebanese cabinet minister told AFP news agency.
"His condition is stable and he was able to talk to the people who received him at the airport. I don't know how long he will stay here."
Some reports say Mr Shaar has serious back injuries, but others say he was wounded in the shoulder and stomach.
The bombing in Damascus on 12 December killed several people and left more than 20 others wounded.
Fighting is continuing in and around the city, with heavy clashes reported on its southern edge and bombardments in other suburbs.