Israel approves East Jerusalem settlement plans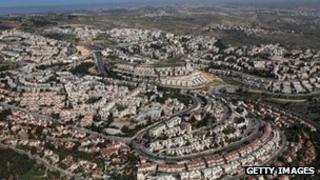 The Israeli authorities have approved plans to build 1,500 more homes at a Jewish settlement in East Jerusalem.
An interior ministry spokesman said its district planning commission had given preliminary approval for the construction in Ramat Shlomo.
The number of homes is slightly lower than the builder had applied for.
The controversial project was revived as part of Israel's response to a UN decision to grant the Palestinians the status of non-member observer state.
The Palestinians said the upgraded status would strengthen their hand in peace talks, but Israel said the only way to achieve an independent state was through direct negotiations.
The last round of direct talks broke down in late 2010 following a dispute over settlement construction in the West Bank and East Jerusalem.
'Green light'
Earlier that year, the US government had been angered when the Jerusalem municipality approved the initial plan for the expansion of Ramat Shlomo during a visit to the region by Vice-President Joe Biden.
Prime Minister Benjamin Netanyahu's office subsequently suspended the plan and put in place "increased mechanisms" to ensure it was involved in all East Jerusalem building projects.
About 500,000 Jews live in more than 100 settlements built since the occupation of the West Bank and East Jerusalem. The settlements are considered illegal under international law, though Israel disputes this.
On Monday, the interior ministry's district planning commission gave "preliminary approval" for the 1,500 housing units in Ramat Shlomo.
Ministry spokeswoman Efrat Orbach said the project still had to go through several additional planning stages, and that it could be months or years before construction began.
City Councillor Yair Gabbai of Mr Netanyahu's Likud party told the Jerusalem Post that various projects had been shelved because of "outside pressure".
"The moment Palestinians went to the UN and went unilaterally, the PM gave a green light to do all [of the building work in East Jerusalem]. Everything was ready years ago, we were just waiting for green light."
The Palestinian Authority reacted angrily to the decision.
"We condemn in the strongest possible terms these Israeli actions and the determination of Israel to continue expanding settlements and in the process undermining the two-state solution," chief negotiator Saeb Erekat told the Reuters news agency.
"These are very dangerous and alarming steps. The Israeli government is showing its determination to contravene the will of the international community," he added.
A spokesman for President Mahmoud Abbas told the AFP news agency that he might ask the UN Security Council to intervene.
Last week, Mr Abbas warned that the Palestinians could pursue Israel at the International Criminal Court if it went ahead with separate plans to build 3,000 settler homes in the West Bank and East Jerusalem.