Bahrain minister plays down dialogue calls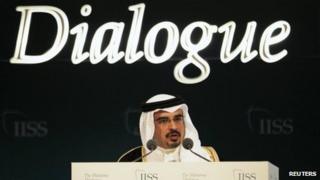 Bahrain's information affairs minister has accused the opposition of "misusing" a call for dialogue.
Samira Rajab was quoted by the state as saying dialogue would only commence once the opposition "stops violence" and "relinquishes" its conditions.
Opposition political societies insisted they were not behind any violence.
Ms Rajab's comments, they said, were further proof that the Gulf kingdom was "suffering the toughest political crisis in its modern history".
There has been widespread unrest in Bahrain since demonstrators took to the streets in February 2011, demanding more democracy and an end to what they said was discrimination against the majority Shia Muslim community by the Sunni royal family.
At least 60 people, including several police officers, have been killed, and thousands injured and jailed, since the uprising began in February 2011. The opposition puts the death toll at 80, a figure the authorities dispute.
'No foreign interference'
On 7 December, Crown Prince Salman bin Hamad Al Khalifa, who is seen as a moderate, renewed his call for dialogue between the government and the opposition in a speech at an international conference in Bahrain, the Manama Dialogue.
"I soon hope to see a meeting between all sides - and I call for a meeting between all sides - as I believe that only through face-to-face contact will any real progress be made," he said.
His comments were welcomed by opposition groups in a joint statement that said: "We agree with the crown prince on the necessity of responding to the vast majority of the Bahraini people, which coexist together, and are interested in Bahrain security and its future."
And the leader of the main Shia opposition party, al-Wifaq called for outside mediation, telling the BBC that US and British help was needed to "change to democracy without delay".
The alternative, Sheikh Ali Salman said, was grim. "We cannot have hardliners on both sides playing and destroying this country," he warned.
On Sunday, Bahrain's National Day, Ms Rajab accused the opposition of "misusing a call for a national dialogue and falsely promoting it".
"Any national dialogue to overcome the crisis will not ignore any component of the Bahraini society and will not be with one side at the expense of the other," the Bahrain News Agency quoted her as telling al-Sharq al-Awsat.
"It will, however, be complementary to the national consensus dialogue that took place in July 2011 and will commence as soon as the opposition stops violence and relinquishes conditions and restraints put to engage in that dialogue," she added.
Justice Minister Sheikh Khaled bin Ali Al Khalifa meanwhile called for the promotion of national consensus, but stressed it should happen "without any foreign interference", BNA reported.
But perhaps most tellingly, King Hamad - the crown prince's father - made no reference to the call for dialogue in his National Day speech.
With violence reportedly continuing in Shia villages - which the opposition says it cannot stop despite repeatedly calling for peaceful protests - this latest setback does not bode well for moderates on both sides.