Referendum shows Egypt's relish for politics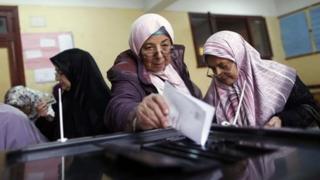 Through the day, the queues of voters stretched round the block, outside many polling stations.
Even after weeks of campaigning, protesting and debating, the enthusiasm was as strong as ever.
Inside polling stations, voters were given a simple ballot-paper. To vote "Yes" for the new constitution, they had to tick inside a blue circle. To vote "No", tick inside a brown circle.
As well as electoral officials conducting the poll, the army were drafted in to maintain order. It all seemed to go smoothly. The only problem was processing the huge number of voters. So the close of polls was delayed to give everyone time to vote.
On one side of the argument are President Mohammed Morsi, the Muslim Brotherhood and other Islamist allies. They like the Islamic values embodied in the new constitution.
The opponents are led by liberals, and others who want a more secular future for Egypt. They dislike the role of Islamic clerics in the new constitution, the lack of a clear commitment to equality between men and women and a number of other clauses.
That means, say the opponents, that the constitution does not contain the guarantee of freedom they believe they fought for in the revolution last year.
Salafist wild card
The final result will not be known until after the second round of voting in other areas next Saturday but some early results may leak out as early as Saturday night. That is because counting is done at each polling station, and some of the judges who supervise these counts share the results with the different political forces.
So inevitably there will be early attempts to "spin" the result and to create momentum before the second round of voting.
Most observers believe that, whatever the strength of feeling on each side of the argument, the Muslim Brotherhood are better organised, and so more likely to win. Particularly as the opponents of the constitution only decided at the last minute to take part in the vote and vote "No", rather than to boycott.
However, one unknown factor is the view of harder-line Islamists, such as the Salafists, who may possibly vote "No" because they believe the constitution does not contain a strong enough commitment to Islamic values.
What seems most likely is that this referendum will not end this debate, a fundamental argument over Egypt's future, particularly if the outcome is as close as many expect.
Egyptians have got used to expressing their feelings about their country, in the strongest possible manner, and they are not about to stop.