Women still yearning for their Arab Spring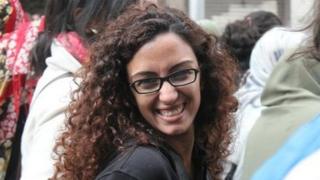 Arab women are still standing in the long queue of those waiting for the fruits of the uprisings to reach them and bring change to their lives.
However, it is nearly two years after the Arab Spring started, and yet there is a sense that Arab women are left behind.
Very few people could argue against the fact that Arab women face a lot of challenges. Attempts to support and reach out to them take different shapes and adopt several perspectives.
Sally Zohney and her friends are trying to find a way to help Arab women through a Facebook page called The Uprising of Women in the Arab world.
"If Facebook could help kick-start one revolution, we hope it might help start another," Ms Zohney says.
The Uprising of Women in the Arab World shares women's stories from across the region, trying to give them a voice and bring them together.
Ms Zohney says her goal much bigger than a Facebook page, as she wants every Arab woman to be free to make their own choices in life.
"I don't want all women to be professors, I don't dream of every girl to be an overachiever. I just want her to know that if she chooses something, that's her choice."
'Biggest liberation'
The problem is that the great majority of Arab women are not among the Facebook crowd.
Others try to help women by working on the ground with them in places like Stable Antar, a slum area in greater Cairo. Everyone in this neighbourhood, including women, struggle with poverty, illness and a lack of basic services.
Sabria Abdallah works in an NGO alleviating poverty-stricken lives of families living in slums.
"We want to help them meet their basic needs and those of their families to be able to take control of their lives," she says.
These neighbourhood ladies have their own definition of liberation.
"Egyptian women are fighters and they are patient. They don't ask for much and they care more about their children than themselves. Providing better lives to our children is liberation in its biggest sense," says 34-year-old Khayrat Mohamed.
For Fatma Awad, 25, the goal is to feel significant.
"I really need to feel that I'm a significant human being, that I can express my opinion. I don't want to remain marginalised. I want others to listen to what I have to say".
Umm Ibrahim, like so many other women in Egypt, spent 20 years in front of an oven bought with a microfinance loan, baking bread to feed her kids.
She, along with about one in three Egyptian women, is the only one supporting her family.
Many Arab women are like Umm Ibrahim. All their strength is needed to bear the burdens of daily life.
If those burdens lift, they hope it will it free them to choose what else they want to fight for.