Israeli FM Avigdor Lieberman charged with breach of trust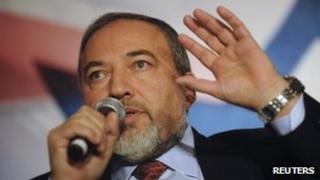 The Israeli Foreign Minister, Avigdor Lieberman, has been charged with breach of trust in connection with a long-running financial scandal.
But Mr Lieberman has been cleared of more serious offences, including money-laundering and bribery.
He said he did not have to resign but was studying the indictment with his lawyers.
The charge against one of the most powerful politicians in Israel comes five weeks before a general election.
Mr Lieberman's party recently joined that of Prime Minister Benjamin Netanyahu for the elections and the Foreign Minister said he would consider how the indictment would affect the vote before he took any further action.
"A final decision will be made after consultation with my lawyers and in the consideration of not hurting the voting public," he said hours after the Justice Ministry announced its decision.
Israeli law on the matter is complex. The BBC's Kevin Connolly says it is thought that being under indictment does not prevent Mr Lieberman from running for parliament but it might force him to resign as a minister.
Opposition parties had called for his resignation if he was charged and the our correspondent says they might go to court to force the issue.
The case dates back more than a decade. Prosecutors had suspected Mr Lieberman had received illicit funds from businessmen and laundered them through shell bank accounts.
The Attorney-General decided there was apparently insufficient evidence to take the matter to trial and charged Lieberman with the lesser offence of receiving official material from the investigation against him.