Egypt voices: Constitutional referendum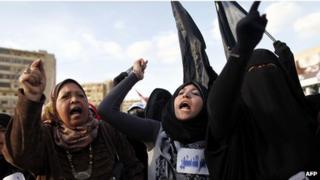 Egyptians are preparing to vote on a controversial draft constitution, on which opinion is deeply divided. Opponents have called for the referendum, drafted by an Islamist-dominated assembly, to be scrapped. Here, people in Cairo give their views. Interviews and pictures by BBC Arabic's Marwa Nasser.
Hazem Morsi, 31, lawyer
I don't belong to the Muslim Brotherhood and I'm not politically involved with any group. But I will vote "Yes" to the constitution.
I have read the draft constitution. It's all very good. We need a constitution to help this country moving.
The president will no longer have all his powers if this constitution is approved and we will have a parliament to express our voices. Political life in Egypt will be quieter once we have a constitution.
We won't suffer any chaos if the result is "Yes". I completely object to protests because they lead to confrontations and eventually a civil war.
Eman, 46, accountant
I will say "No" to the draft constitution for the sake of my children. A constitution which is leading the country into this controversy will only bring more insecurity.
To be honest, I haven't read all the articles and I don't understand everything, but I will say "No" just in case.
There are articles guaranteeing housing and education, but how could that be granted to each citizen?
As a Christian Egyptian woman, I have no worries about the Islamic law articles. However, I'm concerned about those who could misuse liberty to force people to cover up.
In either case, "Yes" or "No", the country will erupt in renewed protests because both liberals and Islamists are equally strong.
Mohammed Said, 59, mechanic
I bought a copy of the draft constitution from an internet cafe around the corner. I decided I would vote "No", because the draft is filled with riddles I don't get.
We are simple people. We don't need that complicated language.
However, I'm still not absolutely sure if I should vote "Yes" or "No". I look up to what the well-educated people say, so I can follow their lead.
Everything is very expensive, and they want to increase prices even more. What does this constitution say about prices? What does it give to the poor people like me?
Islam Abul Magd, 25, auditor
If I have no time to finish reading the draft constitution, I will spoil my vote.
I still need to read some of the controversial articles so I can decide.
The only thing that will make me vote "No" is if the constitution gives the Brotherhood powers. But once I've checked that it doesn't, I will say "Yes".
However, I feel either result won't make a difference. I have no hope that things will change in Egypt.
The Brotherhood wants to dominate the country and will not accept anyone who opposes them. They will always have a plot to gain new powers.
I was a strong supporter of President Mohammed Morsi and the Brotherhood because they provided stability.
But I'm now strongly opposing them after my friend lost his eye when Brotherhood members attacked peaceful protesters outside the presidential palace.
Nadia, 49, housewife
I will boycott this referendum just like I boycotted the first referendum in March 2011.
This country doesn't need more division. The majority doesn't agree on the draft constitution and that's why President Morsi needs to sit and talk with opposition figures.
Morsi didn't do anything for the people. I voted for him, but he has done nothing to help this country change for the better.
He should know he's the president of all Egyptians, not a specific group of people. He should get away from his group, they will bring him down.
Those who will vote "Yes" for the constitution are the Muslim Brotherhood and their supporters, not the rest of the people.
As a housewife, I'm concerned about the rise in prices. What I would hope to see in the constitution is the guarantee of safety for my children. I want them to walk on the streets without being attacked by thugs.
Hassan Sultan, 70, retired agriculture engineer
I don't know how I am supposed to vote on something I don't understand. Nobody has explained the articles of the draft constitution to us.
I watch all the programmes discussing the constitution on TV, but it is still unclear.
If I voted, I would vote "No".
All the legal experts I trust will vote "No" - that means something is wrong with that constitution.
All the representatives of churches and liberal and civil powers have withdrawn? This tells me there's a problem.
If the result is "Yes", that means the will of the people has been influenced. They might not be able to forge the ballots, but they definitely can deceive people in the name of religion. Our fight is the constitution, not religion. We are all good Muslims.
The Brotherhood keeps talking about a conspiracy, but where is it?
The president should listen to the people and postpone the referendum. This is not a good time. We've waited for so long, we're not in a hurry. The country is divided.
Eman Mostafa, 21, student
I can't read all the articles of the draft constitution. But I would vote "No" because all the revolutionary powers and the judges will vote "No".
The constitution should have been finished in two months, but they rushed the voting in 48 hours. This is worrying.
I voted for only one man - President Morsi, not for his whole group. They should not act as if their opponents understand nothing.
If the result is "Yes", that means it was forged.
Nazeera Deyab, 34, secretary
I will definitely vote "Yes". I haven't read the draft constitution, but all Islamic scholars on TV has advised we vote "Yes" and I trust their opinion.
We want to have a constitution, so we can live in stability. We need investors to come back to Egypt and life to go smoothly again.
The holy book should be our constitution, but we need a set of laws because other countries will not recognise our book.
I have a strong feeling the result will be "Yes". Voting "No" is a conspiracy against Egypt - just like the supreme guide of the Muslim Brotherhood says.
There's no need for articles in the constitution to guarantee equality between men and women. Men and women are different and they shouldn't be equal.
However, I have heard that the constitution gives the right to women to work in any position even as the president, though it's forbidden by the Islamic law.
The Islamic law article should come ahead of any other articles. I agree with our scholars that some people want to remove Sharia from the constitution. But by doing so, they just want to remove Islam.
Those slogans of equality and freedom are all wrong and were brought from the West to ruin Islam and especially women.
The president has the right to give himself powers - he's the ruler. But he's not trying to dominate the country - he has appointed people other than Muslim Brotherhood in the government.