Egypt opposition backs referendum 'No' vote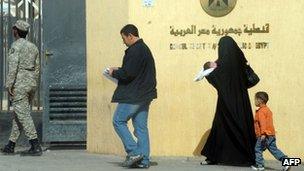 Egypt's opposition National Salvation Front has urged supporters to vote "No" in a looming referendum on a controversial draft constitution.
However, it said it could still call a boycott if its demands for the ballot - including the judiciary acting as overseer - were not met.
The opposition says the draft document, backed by President Mohammed Morsi and his supporters, is too Islamist.
The controversy has prompted mass demonstrations across Egypt.
In a separate development, conciliation talks called for Wednesday by the head of the armed forces have been postponed, with no new date announced.
The National Salvation Front on Wednesday spelled out its stance on the referendum, issuing a call to Egyptians to "go to polling stations to refuse the proposed constitution and to vote 'no'".
Leading opposition politician and former Arab League chief Amr Moussa told Reuters news agency: "We will vote 'no'."
But another leading opposition figure, Hamdeen Sabbahi, told a news conference the Front would still call for a boycott if key conditions were not met.
"If these guarantees aren't in place by the day of the referendum on Saturday, we will withdraw from it," he said.
judicial oversight of voting
monitoring by local and international non-governmental organisations
sufficient security presence
detailed results announced once counting is complete
voting on one day alone
Correspondents say it could prove impossible for all these conditions can be met, as thousands of judges have already refused to take part.
Voting has already begun in embassies and consulates abroad, but there is still much confusion over the domestic vote, particularly whether it will be held over the next two weekends or on 15 December alone as demanded by the opposition.
Further confusion arose when the military said a national unity meeting aimed at calming the crisis had been delayed "because reactions to it were not at the level wished for".
Only moments before the postponement, the opposition had made it known that it was prepared to take part.
Gen Abdel Fattah al-Sisi, the defence minister and head of the armed forces, thanked those who had responded to the invitation but said the talks were being postponed to an unspecified later date.
As tensions surrounding the vote grew, thousands of protesters took to the streets of Cairo on Tuesday in rallies both for and against the proposed constitution.
The streets of Cairo were described as calm on Wednesday and army tanks remained deployed outside the presidential palace.
Last weekend, the president offered a concession to the opposition by annulling a 22 November decree that gave him sweeping new powers.
However, some rulings of the controversial decree - which stripped the judiciary of any right to challenge his decisions - still stand, and a number of opposition figures dismissed the concession as a political manoeuvre.