Pressure mounts on Iran's lawyers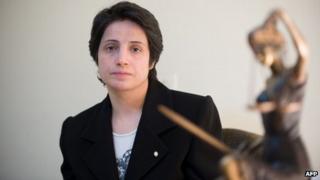 The European Parliament's Sakharov Prize for Freedom of Thought has been collected on behalf of the jailed Iranian human rights lawyer, Nasrin Sotoudeh. It comes at a time of what many campaigners say is unprecedented pressure on the legal profession in Iran, reports BBC Persian's Fariba Sahraei.
Kamal is a young Kurdish activist from north-western Iran.
When he was arrested during the post-election protests in 2009 his family started looking for a lawyer to represent him.
"We couldn't find a single person in our whole town who would agree to take on my case," he told the BBC.
"Everyone we approached came up with an excuse. I got the feeling they had been threatened by the security forces."
Eventually Kamal was given a state-appointed lawyer who made little attempt to defend him.
He is now serving a 13-year prison sentence and spoke to the BBC while on day-release using a pseudonym.
Hunger strike
Iranian lawyer Shadi Sadr says stories like Kamal's are not unusual, and they highlight what she says is an increasing campaign of pressure on the legal profession in Iran.
Ms Sadr told the BBC that since the wave of arrests following Iran's aborted 2009 "Green Revolution" many lawyers have been under pressure not to accept politically sensitive cases.
And those that have, have been threatened, called in for questioning and even imprisoned by the security forces.
Several, like Ms Sadr herself, have been forced to leave the country.
One of the most prominent cases is that of Nasrin Sotoudeh, a well-respected and outspoken human rights lawyer known for taking on high-profile political cases in recent years.
A mother of two, she was jailed for six years in 2011 on charges of conspiring to harm state security.
Ms Sotoudeh denied the charges, which the UN said were believed to be linked to her work as a human rights defender.
Last week, Ms Sotoudeh ended a 49-day hunger strike after the Iranian authorities lifted a travel ban on her 12-year-old daughter, Mehraveh.
On Wednesday, five representatives received the Sakharov Prize on behalf of Ms Sotoudeh and Jafar Panahi, the Iranian filmmaker with whom she shared the award. Two empty chairs were put out by the European Parliament to symbolise the prize winners.
Families pressured
Ms Sotoudeh is a former colleague of the Nobel Prize-winning lawyer, Shirin Ebadi, who also now lives abroad.
Ms Ebadi told the BBC that the prison authorities in Tehran were putting Ms Sotoudeh under huge pressure to make a false confession, something which she continues to resist.
"The security services have been trying to force Nasrin to admit that she has been spying for the West, and to make a false confession against me too," she said.
Ms Sotoudeh is not the only Iranian lawyer to find her family targeted.
Maedeh Soltani is the daughter of another leading human rights lawyer, Abdolfattah Soltani, whose past clients have included the dissident journalist Akbar Ganji,
Mr Soltani was sentence to 13 years in prison in 2011, but even before his arrest the security services were taking steps to silence his wife.
"My mum was put under severe pressure by the intelligence services," Ms Soltani told the BBC.
"After calling her in for questioning they gave her a one year jail sentence. It was shocking news for us because she had absolutely nothing to do with politics."
Independence threatened
Iranian lawyers are also concerned about a new bill currently up for discussion in parliament, which they say will deal the final blow to whatever independence the legal profession still has in Iran.
Under the current system, which has been in operation for the past 60 years, lawyers are licensed, regulated and supported by the independent Iran Bar Association.
The bill proposes establishing a new oversight committee for the legal profession, made up of seven people appointed by and answering to the all-powerful judiciary.
Sadeq Larijani, the influential head of the judiciary, is a strong supporter of the bill, which he says is designed to improve co-operation.
Ms Sadr says that the new system would enable the authorities to stop lawyers from getting involved in sensitive cases.
It would also make it even harder for opponents of the current government to hire anyone to defend them, she adds.
"If this bill is passed all independence for lawyers will be history," she warns. "It will destroy us."