Hamas displays united front at Gaza rally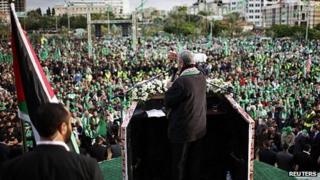 It was an unprecedented scene - a who's who of Hamas, lining up on the stage in Gaza City.
The Hamas political leader, Khaled Meshaal, beamed and waved at the crowd as he stood by prime minister Ismail Haniyeh and other top officials from his Islamist group.
It was Mr Meshaal's first visit to Gaza, after decades living in exile, and this was the first time he had addressed such a crowd.
Tens of thousands of Hamas supporters filled Kattiba Square roused by nationalist speeches and songs. They waved green Hamas flags and wore caps, scarves and full outfits to match.
Some small children dressed as militants and carried toy guns and rockets.
This was the start of celebrations to mark the 25th anniversary of Hamas and an occasion to restate its founding goals.
Standing in front of a huge model missile bearing the legend "Made in Gaza", Khaled Meshaal insisted there would never be acceptance of Israel's right to exist and restated the commitment to armed struggle.
"We are not giving up any inch of Palestine," he said. "It will remain Islamic and Arab for us and nobody else. Jihad and armed resistance is the only way."
He said he would continue to seek the release of Palestinians held in Israeli jails and mentioned a prisoner swap last year when a captured Israeli soldier was exchanged for more than 1,000 Palestinians.
As anticipated, there was a reference too to the need for Palestinian unity.
A damaging rift developed between Hamas and its political rivals in the Fatah faction after Hamas won legislative elections in 2006 and came to power in Gaza a year later.
For the first time since then, local Fatah leaders attended this Hamas event.
"After the Gaza victory, it is now time for ending this chapter of division and building Palestinian unity," Mr Meshaal said.
"Reconciliation means a united political platform, one authority, one president and one parliament."
There was popular support for the message.
"He was right to talk about reconciliation as well as our victory over Israel and resistance," one woman, Ghada, told me.
"It is the unity between Palestinian factions that we need and deserve," said a middle-aged man, Adnan.
The general consensus is that efforts to end Israeli occupation of Palestinian territory are undermined by internal political divisions. However, there was also a reminder in Mr Meshaal's words of a barrier that will be difficult to overcome.
If he insists on recognition of the importance of violent resistance, the moderate President Mahmoud Abbas - who is considered a partner to peace with Israel by Western countries - will not be able to accept closer ties.
Political tensions
Mr Abbas has accepted a two-state solution to the Palestinians' conflict with Israel based on the frontiers that existed before the 1967 war when Israel occupied Gaza, the West Bank and East Jerusalem.
One issue that was not addressed by Mr Meshaal was his own future. He has previously stated his intention to step down from his leadership position.
It is known there are tensions with other senior Hamas members, particularly those based in Hamas's stronghold in Gaza.
Some observers commented that veteran figure Mahmoud Zahar has stayed apart from the visiting leader in public.
Off-stage, this trip by Khaled Meshaal to Gaza provides a possible opportunity for the internal leadership election process in Hamas to be concluded.
Meanwhile this was a powerful demonstration that Hamas enjoys wide local support in Gaza and increasingly in the wider region.
Delegations from Qatar, Bahrain, Turkey and Malaysia attended the event as well as Egypt. The support of a new Islamist government in Cairo has provided Hamas with a major boost.
This celebration was only made possible because Egypt allowed Mr Meshaal and others access to Gaza through the Rafah border crossing.
Although there were few media reports previewing the Hamas rally in Israel, it will find this show of strength worrying. Like the United States and the European Union, Israel regards Hamas as a terrorist organisation.
Over the years Hamas militants have targeted Israeli civilians in suicide bombings and rocket attacks.
It is currently engaged in indirect talks with Hamas, through Egyptian mediators, after their eight-day conflict last month ended with a ceasefire understanding.