Egypt braces for protests after Morsi calls for talks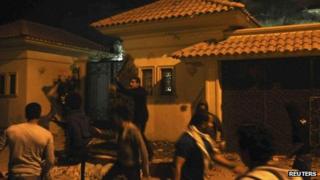 Egypt is bracing for a day of fresh protests after opposition leaders reacted angrily to a televised speech by President Mohammed Morsi.
Mr Morsi, under fire for issuing a decree that gives him sweeping new powers, had invited all major political factions to a meeting on Saturday.
But an opposition spokesman said the president had missed a historic chance for compromise.
Late on Thursday, the Cairo offices of the Muslim Brotherhood were attacked.
Opposition supporters ransacked the Islamist movement's headquarters and set it on fire. The Muslim Brotherhood dominates the government and backs President Morsi.
Police also fired tear gas to disperse hundreds of protesters gathered outside the president's house in his hometown of Zagazig, north of Cairo.
Leading activist group, the April 6 movement, which played a major role in last year's revolt against Mubarak, said on its Facebook page that protests on Friday would deliver a "red card" to Mr Morsi.
Other opposition groups also called for protests after Friday prayers at mosques and in squares across Egypt, Reuters said.
'Collective stand'
On Thursday, US President Barack Obama called Mr Morsi to express his "deep concern" over the recent violent protests, the White House said.
He welcomed Mr Morsi's call for talks, but stressed they should be "without preconditions", a statement said.
The opposition National Salvation Front movement reacted angrily to the Mr Morsi's speech, saying the president offered little in the way of concessions to his opponents.
Nobel prize winner Mohamed ElBaradei, the movement's chief co-ordinator, said opposition groups would not enter talks unless Mr Morsi withdrew his new powers.
They also demanded that a referendum on Egypt's new constitution, due to be held on 15 December, be delayed.
But Amr Moussa of the National Salvation Front later told Reuters news agency that the president's speech would be considered on Friday before a "collective stand" was taken.
Egypt has been plunged into crisis since President Morsi issued a decree on 22 November stripping the judiciary of any power to challenge his decisions.
However, he says the decree would be cancelled after the 15 December referendum, whatever the result.
The BBC's Jon Leyne in Cairo says it is unlikely opposition groups will agree to the president's call for talks as they have insisted that he must withdraw his new powers before they open discussions.
Our correspondent says the president gave little sign of compromise on that in his speech on Thursday, or on the referendum on the new constitution. Instead he blamed supporters of the old Hosni Mubarak regime for the demonstrations.
The growing tensions also reveal deep divisions within the Muslim Brotherhood, our correspondent says.
Whenever there is talk of compromise, the movement's hardliners seem to win the battle, he adds. Critics say Mr Morsi is not acting as president of the whole country, but rather as a delegate of the Muslim Brotherhood.
Advisers resign
On Wednesday night and Thursday morning, thousands of supporters and opponents of President Morsi fought outside the presidential palace using rocks, petrol bombs and guns.
Five people were killed and hundreds more injured.
Egypt's elite Republican Guard restored order and told rival demonstrators to leave by mid-afternoon.
President Morsi's supporters withdrew but opposition protesters remained, penned back by a barbed wire barricade guarded by tanks.
By nightfall their numbers had swelled to several thousand.
Mr Morsi has confirmed that the referendum on a new constitution will go ahead as planned, saying that if the constitution were voted down, another constituent assembly would be formed to write a new draft.
Critics say the draft, drawn up by a body dominated by Morsi-supporting Islamists, was rushed through parliament without proper consultation and does not do enough to protect political and religious freedoms and the rights of women.
Four of Mr Morsi's advisers resigned on Wednesday. Three others did so last week and the official Mena news agency reported a further resignation on Thursday.