Eastern Iran hit by deadly earthquake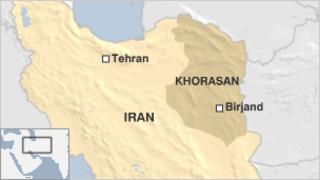 At least five people have been killed by a moderately powerful earthquake in eastern Iran, say officials.
The 5.5 magnitude quake struck near Zohan in South Khorasan province, close to the Afghan border, in the early evening, said the Fars news agency.
At least 20 people were hurt and many in the provincial capital Birjand fled their homes, the agency said.
Iran is frequently hit by quakes - in 2003 tens of thousands of people were killed in a quake which flattened Bam.
More than 300 people died in two quakes in north-western Iran in August this year.
Tehran University's Seismological Centre said the latest quake hit at 20:38 local time (17:08 GMT), 25km (15 miles) from Zohan.
State TV quoted a local MP, Javad Heravi, as saying it had damaged rural buildings and cut phone and power lines. Twelve villages were affected, the TV added.
Search and rescue teams have been dispatched to the scene, media reports said.