Yemen's Abyan saw 'rights catastrophe' says Amnesty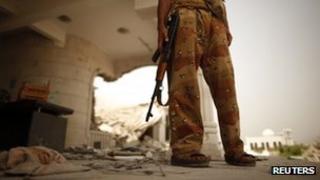 Yemen's Abyan province saw a "human rights catastrophe" during the conflict between the government and al-Qaeda-linked militants in 2011 and 2012, a report by Amnesty International says.
The rights group says it has evidence of abuses including summary executions and amputations carried out by members of the Islamist group, Ansar al-Sharia.
The government also failed to protect civilians during the fighting, it says.
Amnesty has called for those responsible to be held to account.
Militants from Ansar al-Sharia, an offshoot of al-Qaeda in the Arabian Peninsula (AQAP), seized large amounts of territory in Abyan during the political turmoil that led to President Ali Abdullah Saleh handing over power to his deputy in November 2011.
They controlled several towns for nearly 14 months before they were driven out by government troops backed by the US earlier this year.
The militants imposed a strict version of Sharia, of Islamic law, through religious courts, restricting behaviour, clothing and separating the sexes.
In its report, Conflict in Yemen: Abyan's Darkest Hour, Amnesty says these courts "frequently imposed cruel, inhuman and degrading punishments on alleged criminals, suspected spies, those accused of 'sorcery', and people who transgressed cultural norms".
The punishments included killings without trial, amputations, torture and floggings - the body of one executed man was crucified for several days, Amnesty says.
The group also accuses the Yemeni government of using "inappropriate battlefield weapons" during its efforts to oust the militants from the region.
The use of air strikes, artillery and mortar attacks in residential areas resulted in the deaths of civilians, it says, while also criticising the militants for basing themselves among the population and "recklessly exposing civilians residents to harm".
"There are also reports that some of the air strikes documented in this report may have been carried out by US drones, which appear to have been active during the conflict," the report adds.
An estimated 250,000 people were also displaced by the fighting, and there remains a danger that the Ansar al-Sharia could re-emerge, it concludes.
"The Yemeni authorities must ensure that a commission of inquiry announced in September covers the truly shocking abuses committed," said Amnesty's Middle East and North Africa director, Philip Luther.
"The tragedy of Abyan will haunt Yemen for decades to come unless those responsible are held to account and victims and their families receive reparations."