Syria crisis: Damascus internet back after blackout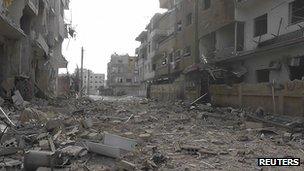 Internet services around Damascus have resumed after a two-day blackout, as violence intensifies.
While Syria's capital seemed to be back online, it was not clear how much internet access there was elsewhere.
Activists report continued bombardment of eastern suburbs of the capital which have been the focus of a fierce government offensive in recent days.
The government says the city's airport has reopened but there are still reports of fighting in the area.
Many flights in and out of Damascus were cancelled on Thursday and Friday after heavy fighting on the main road to the airport, which is the country's busiest.
The BBC's Lina Sinjab, who is in the capital, says helicopter gunships and MiG warplanes can be heard overhead, reportedly bombarding rebel-held areas.
The communications black-out made it hard to establish what was happening on the ground across the country, and even in other neighbourhoods of Damascus.
The only information people had been getting was the sight of clouds of smoke and the non-stop sound of fighter jets, military helicopters and explosions, indicating how heavy the fighting continues to be in the south-eastern area of the city leading to the airport, our correspondent says.
The US State Department says the Syrian government cut communications in a sign of its desperation.
The UN Secretary General has decried the worsening humanitarian situation in Syria, saying civilians were being massacred almost daily across the country while wide-scale human-rights violations were being committed by both sides.
Ban Ki-moon warned the UN General Assembly in New York that Syrian refugee numbers could swell to 700,000 by January.
He predicted that up to four million people would be in need of assistance during the winter as a consequence of ever more brutal violence.
His words were echoed by the UN-Arab League envoy for Syria, Lakhdar Brahimi, who told the New York gathering that Syria would become a failed state unless a negotiated political solution to the conflict could be found.
Only the UN Security Council could put together a viable peace plan, he emphasised.
Meanwhile, Turkey's foreign minister says the Syrian regime has degenerated into an "armed militia" that resorts to brutality in its desperate attempt to stay in power.
Ahmet Davutoglu was speaking on Saturday at an Istanbul meeting of Arab foreign ministers who have expressed opposition to the Syrian government.
Activists say more than 40,000 people have been killed since the uprising against President Bashar al-Assad began in March 2011.