Syria conflict: 'Brutality' appals UN's Ban Ki-moon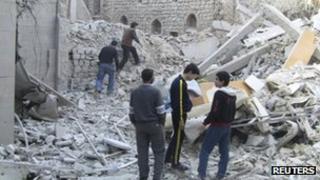 Violence in Syria is "reaching new and appalling heights of brutality", the UN secretary general has said, as fighting continued across the country.
Speaking at the UN General Assembly, Ban Ki-moon warned that refugee numbers could swell to 700,000 by January.
More than 80 people died in clashes in Syria on Friday, activists said.
Many flights in and out of the capital Damascus were cancelled for a second day after fighting spread close to the country's main airport.
However, state TV said domestic flights were operating.
The highway to the airport was eventually reopened by government troops after heavy fighting, the BBC's James Reynolds in neighbouring Turkey reports.
In other developments:
at least 17 Lebanese fighters sympathetic to the majority Sunni-led revolt were killed by Syrian government forces in the border province of Homs, Lebanese security officials said.
internet and phone systems reportedly remained down for a second day across Syria with the government and the opposition blaming each other for the shutdown.
'Failed state'
On Friday, Mr Ban warned the UN General Assembly in New York that civilians were being massacred almost daily across Syria. "Human rights violations are being carried out on a wide scale by all combatants," he said.
He predicted that up to four million people would be in need during the winter as a consequence of ever more brutal violence.
Mr Ban also said that "building a free and democratic Syria will require political dialogue and negotiations".
His words were echoed by the UN-Arab League envoy for Syria, Lakhdar Brahimi, who told the New York gathering that Syria would become a failed state unless a negotiated political solution to the conflict could be found.
Only the UN Security Council could put together a viable peace plan, he emphasised.
Activists say more than 40,000 people have been killed since the uprising against President Bashar al-Assad began in March 2011.