Press debates 'landmark' UN vote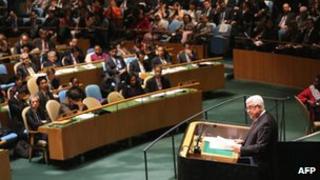 Both Palestinian and Israeli papers see the UN General Assembly's vote to recognise the Palestinians as a non-member observer state as a move of profound implications, but differ strongly in their assessments.
Palestinians hail it as a major achievement, with one speaking of a "new day", while warning that Israel and its allies will try to undermine it. One commentator seeks to allay fears that it endangers the dormant peace process.
In Israel, commentators are deeply divided, with one side arguing that the vote is a disaster to which the country must respond aggressively. Others take the opposite view, urging Prime Minister Benjamin Netanyahu to stop opposing recognition in order to prove it its Israel that is serious about peace.
Palestinian papers
Abdelmajid Suweilim in pro-Fatah Al-Ayyam
Today, Israel will understand that preventing the establishment of a Palestinian state is the region's only impossibility. Today, it will understand that it will not be able to prevent the establishment of this state even if it were to wage a thousand wars. Today is the day of Palestine and tomorrow will be a new day.
Editorial in pro-Fatah Al-Quds
The Israeli occupation and its allies will not respect the General Assembly resolution, just like they rejected international resolutions in the past. Nevertheless, supported by an overwhelming majority in the international community, this resolution will isolate this minority.
Hafith al-Barghouthi in Palestinian Authority-owned Al-Hayat al-Jadida
This Palestinian move will reinvigorate the two-state solution, as it seeks UN non-member observers solely in order to invite Israel to negotiate on the basis on the international resolutions. American, European and Israeli fears that the Palestinians will seek to prosecute Israel for its violations at the International Criminal Court are groundless, because the Palestinians' objective is to remove the occupation.
Mustafa al-Sawwaf in Hamas-run Filastin
We want Palestine - all of Palestine - to be the territory of our state. We will not accept any alternative, we know how to achieve that and we realise the price we will to pay. We have started on the road to return [to lands held by Israel since 1948], but we need Arab and Islamic nations to stand by our side".
Israeli papers
Alexander Bligh in Ma'ariv
The recognition is a grave declaration from Israel's point of view. It is now unavoidable for us to to completely abolish - as soon as possible - the Oslo accords and their stinking fruit, the "Palestinian Authority". Any other reaction would, quite rightly, be interpreted by the world as some kind of acquiescence to the new formal status of an organisation whose constitution contains a a clear call for the destruction of a UN member state - Israel.
Eitan Haber in Yediot Ahronoth
So far we have disregarded everything to do with the UN and its resolutions. But if 180 countries declare their recognition of an observer Palestinian state, then politically we are in deep trouble. For Palestinians, today is just the general rehearsal.
Editorial in Ha'aretz
Recognition of Palestine is not an obstacle to peace. Mahmud Abbas undertook to resume negotiations with Israel immediately. If Prime Minister Benjamin Netanyahu wants to convince Israelis of his desire for peace, he must drop his objection to the recognition of Palestine, be the first to congratulate Abbas on his historic achievement and provide an early date for the resumption of talks.
Ben-Dror Yemini in Ma'ariv
There is a fear that Israel is losing the wisdom of the past. In the past, it was clear to to others that Israel says "yes" and the Arabs say "no". Today, this is already less so. Israel, mainly under Netanyahu, has itself contributed not a little to this: More and more settlement outposts, more and more confrontations with the US administration. The recognition of a Palestinian state is a landmark. This is a big achievement for [Palestinian President Mahmud Abbas], but not a big achievement for the peace process.
BBC Monitoring reports and analyses news from TV, radio, web and print media around the world. For more reports from BBC Monitoring, click here. You can follow BBC Monitoring on Twitter and Facebook.