Bombings kill Shias in Iraq cities of Hilla and Karbala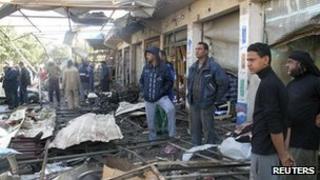 At least 33 people have been killed in bomb attacks on predominantly Shia Muslim areas south of the Iraqi capital Baghdad, officials say.
A double bombing in the city of Hilla killed 28 people and wounded scores more.
A car bomb also exploded in the nearby shrine city of Karbala, killing at least five people.
No group has said it carried out the attacks but Sunni militants have targeted the Shia majority in the past.
Pilgrims flock to Karbala each year for Ashura commemorations, the climax of the holy month of Muharram.
The two bombs in Hilla exploded in a busy commercial area.
Local shop owner Ali al-Khafaji said the first explosion was near a restaurant which had set up a tent serving food to Shia pilgrims, and was followed by another blast when emergency personnel arrived at the scene.
The dead included two women, three children, two medics and a civil defence organisation member, police and medics said.
"We started to stop civilian cars asking them to take the wounded to hospital since there were not enough ambulances to transfer them," said Ihsan al-Khalidi, a schoolteacher who was near the scene.
Iraqi security forces cordoned off the area of the blasts and set up checkpoints in the city.
In Karbala, a parked car exploded near one of the city gates, a police officer quoted by AP news agency said.
Those who died were civilians but policemen were among more than 20 wounded, he added. The blast also damaged nearby buildings.
A recent upsurge in such attacks has sparked fears of a return to the sectarian conflict that beset Iraq in the years after the 2003 US-led invasion.
Last month twin bomb attacks in Baghdad's mainly Shia neighbourhood of Sadr City killed at least 13 people.
In August, more than 90 people died in a wave of attacks before Eid al-Fitr, which marks the end of the holy month of Ramadan.
Security forces were also targeted by insurgents on Thursday.
A suicide bomber drove an explosives-laden car into a police checkpoint in the mainly Sunni Muslim city of Fallujah, west of Baghdad, killing three policemen and wounding 11 others, police said.
In the northern city of Mosul, a parked car bomb went off as a police patrol passed, killing a policeman and a civilian.