Saudi king health fears calmed after back operation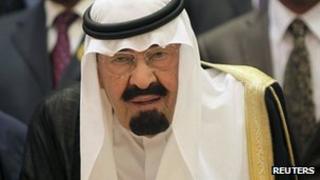 King Abdullah of Saudi Arabia has appeared on state television for the first time since undergoing major back surgery 11 days ago.
Correspondents said there had been rumours about the health of the king, who is in his late 80s, when he did not reappear in public.
The TV footage showed King Abdullah sitting in hospital in the capital, Riyadh, surrounded by well-wishers.
It was revealed that the king's operation had lasted 11 hours.
King Abdullah has suffered a series of health problems over the years.
Just over a year ago he underwent an operation to treat a loose vertebra in his back.
In February 2011 he returned to Saudi Arabia after spending three months abroad to receive medical treatment.
In 2010 the king went to New York for two operations to repair spinal vertebrae and a herniated disc.