Profile: Tzipi Livni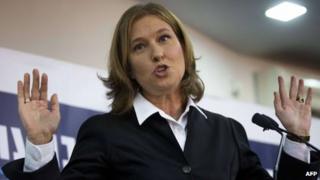 Tzipi Livni, the leader of Israel's new political party The Movement, is the most prominent female Israeli politician of her era.
Her return to frontline politics comes seven months after she left the centre-right Kadima party, having lost the leadership to Shaul Mofaz.
In February 2009, Ms Livni took the then-governing party into a general election, and although Kadima emerged with the largest number of seats in the new parliament, Ms Livni was unable to form a coalition.
Benjamin Netanyahu's Likud Party was invited to form a new government, leaving Ms Livni - a former foreign minister, chief negotiator with the Palestinians and deputy prime minister - as leader of the opposition.
Sharon protege
A 54-year-old lawyer, mother-of-two and former Mossad agent, Tzipi Livni has become a leading advocate of a two-state solution with Palestinians.
She is presented by her supporters as a break from former generals and male politicians plagued by allegations of corruption, who have dominated Israeli politics.
But for many voters she lacks the military background that many Israeli voters consider as a prerequisite to lead the country.
Ms Livni's relatively recent parliamentary career began when she was elected to the Knesset in 1999 for the right-wing Likud party.
She was a protege of former Prime Minister Ariel Sharon, who in 2001 named her as minister for regional development.
Other ministerial portfolios followed - immigrant absorption, housing and construction, justice and later foreign affairs.
She became a close adviser to Mr Sharon and in 2005 helped to broker his controversial pull-out of Israeli troops and settlers from the Gaza Strip.
When Mr Sharon left Likud in the autumn of 2005, amid splits over the so-called disengagement plan, he set up the Kadima party and Ms Livni joined him.
She was a beneficiary of the mass resignations from the government by Likud members, being promoted to the position of foreign minister - becoming only the second woman to hold the post in Israel's 64-year history.
Ms Livni retained the position after the March 2006 general election, which Kadima won, although her political mentor was out of the picture. Before the campaign began in earnest, Ariel Sharon had a massive stroke from which he has never recovered.
Becoming a proponent of Mr Sharon's unilateral disengagement and latterly backing former US President George W Bush's call for the formation of a Palestinian state was a major ideological transition for Ms Livni.
Both her parents were key figures in the pre-state Zionist militia, known as the Irgun - her Polish-born father serving as its chief of operations.
In 2006, Ms Livni told the New York Times: "I believe, like my parents, in the right of the Jewish people to the entire land of Israel. But I was also raised to preserve Israel as a homeland for the Jewish people and [to preserve] democratic values.
"So choosing between my dreams, and my need to live in democracy, I prefer to give up some of the land."
Gaza credit
Ms Livni served as foreign minister throughout the government of Mr Sharon's unpopular and scandal-prone successor, Ehud Olmert.
There have been suggestions she was largely frozen out of military-political decision-making during the war in Lebanon in 2006, although she was involved in negotiating the UN ceasefire resolution.
Mr Olmert was heavily criticised for the handling of the war, which was regarded by some as an indecisive, badly managed campaign, carried out by ill-prepared forces.
Ms Livni called for Mr Olmert's resignation in the wake of an official report into the war, and continued to keep him at arm's length as he became engulfed in a corruption scandal.
When Mr Olmert decided to step down to allow a new Kadima leadership in July 2008, Ms Livni beat cabinet colleague Shaul Mofaz by a narrow margin.
Her meteoric rise may have been checked by not being able to form a government but she now had the chance to appear in the guise of war leader.
She was a member of the three-member team political team, with Mr Olmert and Defence Minister Ehud Barak, which oversaw the 22-day Israeli offensive against Gaza beginning in December 2008, for which there was overwhelming approval among Israeli voters.
However, she failed to win the ensuing general election, and her popularity went into decline.
Ms Livni says she has been urged out of retirement by supporters who told her there was a hole in Israeli politics.
Other centrist parties have concentrated more on Israel's domestic politics rather than on the peace process and Ms Livni says The Movement will become a home for those who want to change Israel's foreign policy.