Tzipi Livni returns to Israel politics with new party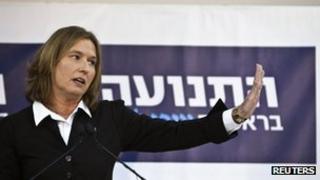 The former Israeli foreign minister, Tzipi Livni, has announced her return to politics as the head of a new party.
Ms Livni said "The Movement" would contest January's general election on a manifesto that included the pursuit of a peace deal with the Palestinians.
She said she would appeal to "people who do not have anyone to vote for."
Ms Livni served as foreign minister from 2006 to 2009. She resigned from parliament in May after losing the leadership of the Kadima party.
At the time, she said she was leaving the Knesset but "not retiring from public life", adding that Israel was "too dear" to her.
'Change now'
At a news conference in Tel Aviv on Tuesday, Ms Livni criticised the government of Prime Minister Benjamin Netanyahu for its failure to make any progress in negotiations with the Palestinians in recent years.
"The government enters dialogue with those who support terror and avoids the camp that has prevented terror, that fights for two states."
Ms Livni was referring to Israel holding indirect talks with the Islamist movement, Hamas, about the ceasefire deal which ended an eight-day Israeli offensive on the Gaza Strip last week.
The latest round of direct negotiations on a two-state solution with the Palestine Liberation Organisation, which is dominated by the rival Fatah movement of President Mahmoud Abbas, broke down in 2010.
Palestinian negotiators insist that the building of Jewish settlements on occupied land must stop before they agree to resume direct talks. Their Israeli counterparts say there can be no preconditions.
Ms Livni warned that Israel now stood at a crossroads.
"If we don't make a change now, we won't be able to make it in the future."
Correspondents say that outside Israel, Ms Livni is one of the country's best known and most respected politicians.
She is credited for not seeking a coalition with ultra-religious parties, even though as leader of the biggest party in the Knesset she could have, theoretically, become prime minister after the 2009 elections.