Syria crisis: Kidnappings compound conflict fears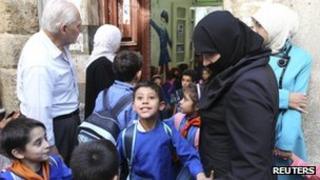 As the conflict between the Syrian government and opposition fighters continues, kidnapping has become a source of much needed money in a struggling economy, the BBC's Lina Sinjab in Damascus reports.
When 11-year-old Ahmad went to the gym with his schoolmate, they could not have imagined what was awaiting them.
Back in April, when it was safer to travel around Damascus and its suburbs, Ahmad left the gym in an upmarket area of the city and met the family's driver who was waiting to take him and his friend home. But it would be four days before he saw his mother and father again.
The two schoolboys were kidnapped along with the driver. The kidnappers demanded $2m (£1.2m) for the children.
Ahmad's father Nabil told me the details but did not reveal their real names fearing retaliation if the story came out in the media.
This story, however, has spread by word of mouth, leaving many families in the capital in fear for their own children.
Mixed signals
"I knew someone took them half-an-hour after we knew they'd disappeared. At first we thought it was the driver who was playing a dirty game, but soon we realised it was a real kidnapping," Nabil said.
He received various calls from the kidnappers giving him orders to gather the money, threatening to kill the boys if he refused.
"They were sending mixed signals. On one hand, they would threaten to slaughter my son but, on the other, they would allow me to talk to him.
"They introduced themselves as the Free Syrian Army. When I talked to Ahmad, I could feel he is not being harmed at all. It was a nightmare."
Nabil was very composed during the four days of kidnapping. He followed the abductors' orders and tried to secure his son's release.
But the amount of money the kidnappers asked for was far more than he had.
The initial demand for $2m was lowered to $100,000. That was all he could pay. The trip he needed to make to deliver the ransom was nerve-wracking, Nabil said.
"They gave me instructions to drive around several towns in the suburbs of Damascus and then stop at one dark spot in a park and leave the money under a tree.
"Then I drove back home and the minute I arrived, they told me to drive back again using the same routes, to the same spot, and take my son.
"I couldn't believe he was in my arms again. I couldn't hold him at the beginning. I was driving so fast to reach home again. When he was home and safe, I collapsed."
Soon after, Nabil started receiving calls from the Free Syrian Army denying they were behind the kidnapping. They claimed criminal groups were committing such crimes in the name of the FSA.
In Damascus, it has been reported that battalions of the FSA are now executing people they believe are robbing or kidnapping using their own name in an attempt to distance themselves from such crimes.
'Bermuda Triangle'
Forced disappearances have become a way of life here in Syria.
Human rights groups have accused the Syrian government of being responsible for about 80,000 cases of missing people. Families do not know the whereabouts of their loved ones but accuse the government of detaining them.
But cases similar to Ahmad's are in a different category. The targets today are wealthy people who can pay money in return for their lives.
Dummar is a residential district just 10 minutes' drive from Damascus, and within it is an area that local people call the Bermuda Triangle - referring to the infamous spot in the Atlantic Ocean known for mysterious disappearances.
"This area was very lively with young people walking around and eating out, but now it is becoming scary after many incidents of kidnapping - sometimes just for the sake of $200," one resident said.
In many cases, pro-government militias have also been accused of kidnapping for money purposes.
"My husband disappeared with the car," one woman in Dummar said. "Some of the residents saw his car being driven to a nearby neighbourhood, where pro-government militias live."
The women had to seek the government's help to free her husband and return the car from the hands of militias known locally as "shabiha".
In a separate case, the kidnapping of a major businessman took place in central Damascus, just 10m (30ft) away from a security checkpoint.
Armed people came out of a car and took him by force. Eyewitnesses said they thought he was being detained. But his family later received calls asking for $5m in ransom.
As the conflict continues, kidnapping has become a source of much needed money in a struggling economy.
There are groups that now openly say they are not affiliated to either side of this conflict and are only interested in abductions.
The reality that many Syrians now face is one of lawlessness and chaos.