Syrians arrested in Lebanon with explosives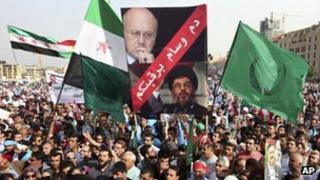 Five Syrians possessing explosives have been arrested in Lebanon, the Lebanese army has said.
The army said the Syrian nationals were arrested during a raid on a home in the southern town of Nabatiyeh, where 450g (1lb) of explosives were found.
There is speculation that those arrested may have been targeting Lebanese Shia Muslims.
A procession is due to take place in Nabatiyeh on Sunday to mark the Shia festival of Ashoura.
The festival has been the subject of attacks by militant Sunni Muslims who regard Shias as heretics.
The army has not commented on the motives of those arrested.
The arrests come amid concern that the growing civil war in neighbouring Syria is deepening sectarian divides in Lebanon.
Syrian President Bashar al-Assad, who comes from the Alawite sect - a Shia offshoot - has the support of the Lebanese Shia group Hezbollah, while the popular uprising against him is largely Sunni.
Last month Lebanon's intelligence chief Wissam al-Hassan, seen as an opponent of the Syrian government, was killed in a car bombing in Beirut, raising fears that the violence in Syria would spill over into Lebanon.