Egypt President: Mohammed Mursi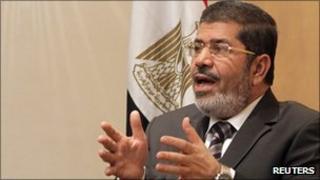 In June 2012, Mohammed Mursi was sworn into office as the fifth president of Egypt; the first Islamist to hold the job.
Although he was not their first choice as presidential candidate, Egypt's powerful Muslim Brotherhood had thrown its weight behind the chairman of its Freedom and Justice Party (FJP).
The 61-year-old engineer took 24% of vote in the first round of the election in May, with second place going to Ahmed Shafiq, a former air force chief who served briefly as former President Hosni Mubarak's last prime minister.
In the run-off, he took 51.73% of the vote.
Mr Mursi resigned from the FJP after his victory was announced and promised to form a government "for all Egyptians". He called for national unity after the deeply divisive presidential race and promised to honour international accords.
Although he has been openly critical of Israel, Mr Mursi was praised by Western leaders for his role in securing a ceasefire between Hamas, which governs Gaza, and Israel with which Egypt signed a peace treaty in 1979.
However he alarmed many Egyptians just one day later by issuing an order that prevented any court from overturning his decisions. This essentially allows him to rule unchecked until a new constitution is drafted.
With legal challenges against the 100-person assembly drawing up the constitution planned, Mr Mursi declared that neither the assembly not the upper house of parliament can be dissolved. Both are dominated by Islamists.
Some of the president's secular critics declared him a "dictator" and "a new pharoah".
After several days of angry demonstrations near to Cairo's Tahrir Square, Mr Mursi also ordered trials and reinvestigations into the deaths of hundreds of protesters during last year's uprising.
'Spare tyre'
In his election campaign, Mr Mursi had promised to bring "stability security, justice and prosperity" after a year of political upheaval.
He said it was time to put into practice the Brotherhood's famous slogan - "Islam is the solution" - and described its policy plans as having "a moderate Islamic reference".
Earlier Mr Mursi had handed in his nomination papers for the presidential contest on the last possible day after it emerged that Khairat al-Shater, a millionaire businessman and deputy leader of the Brotherhood, might be prevented from running.
After Mr Shater and other candidates were disqualified, the Brotherhood officially shifted its support to Mr Mursi.
Political cartoons depicted Mr Mursi as "a spare tyre" for his group.
There were doubts over whether the more quietly-spoken man would be able to establish himself among voters.
However he was guaranteed the support of the Brotherhood's grassroots network and highly organised campaign team.
This had already led the FJP to success in the parliamentary elections. Although voting for the lower house of parliament was later declared unconstitutional and the body was dissolved.
Islamist suspicions
From the outset, Mr Mursi has struggled to overcome accusations that the Brotherhood wants to monopolise the political scene.
The group decided to field a candidate for the presidency despite earlier promising it would not.
Mr Mursi argued that the Brotherhood had to respond to changing realities and "dangers threatening the revolution".
After protests over the results of the presidential election first round and an attack on Mr Shafiq's campaign headquarters, Mr Mursi swung the situation to his advantage.
He offered concessions to groups that felt disenfranchised and presented himself as a bulwark against any revival by the Mubarak old guard.
He insisted he wanted to build a "democratic, civil and modern state" that guaranteed the freedom of religion and right to peaceful protest.
Mr Mursi said he would not necessarily choose a prime minister from the largest party in parliament - the FJP - and suggested he would appoint Coptic Christians on his presidential team, and even possibly as a vice-president. He said an Islamic dress code would not be enforced.
"The presidency will be an institution," Mr Mursi declared. "The Superman era is over."
After weeks of consultations, Mr Mursi ultimately selected the independent Islamist, Hisham Qandil, from the outgoing cabinet as his prime minister. He later named advisers and aides that included a few Christians and women.
In November, Egypt's Coptic minority criticised the president's decision to send a representative to the enthronement of their new pope instead of attending in person.
'Renaissance Project'
The Brotherhood's presidential platform has placed its "Renaissance Project" centre-stage.
It is a comprehensive plan meant to provide solutions for Egypt's manifold problems: from an overhaul of the economy and security services to dealing with chronic traffic problems and rubbish in the streets.
After 100 days in office the president presented a wealth of statistics to prove he was meeting his pledges. However a well-followed website which created what it called the "Morsimeter" claimed he had met only five of the 64 goals he had set out for himself and partially met 23.
One of the president's most successful strategic moves was against the military which ruled Egypt after Mubarak was ousted. In August, he asked the head of the armed forces, Mohammed Hussein Tantawi and his chief of staff to resign but officially kept them on as advisers.
He ordered the annulment of the constitutional amendments passed by the Supreme Council of the Armed Forces, which restricted his powers.
His foreign policy has also been praised. He is seen to have balanced overtures to regional rivals, particularly Iran, with harshly-worded attacks on Syria's President Bashar al-Assad.
Mr Mursi suggested a new quartet of Egypt, Saudi Arabia, Turkey and Iran to tackle the Syria crisis, helping to restore Egypt to its erstwhile role as a major player in the Middle East.
The president's recent performance in the Israel-Hamas conflict allowed him to show he was keeping his promise to help the Palestinian cause.
Although Egypt will now have to prove it is tackling problems, such as smuggling tunnels along the Gaza border, it has demonstrated it can continue to play a key role as a mediator.
The president has shown the value of upholding the peace treaty with Israel and his connection to Hamas, an ideological offshoot of the Muslim Brotherhood.
US-educated
Mohammed Mursi comes from a village in the Nile Delta province of Sharqiya and is married with four children.
He studied Engineering at Cairo University in the 1970s before moving to the United States to complete a PhD.
After returning to Egypt he became head of the engineering department at Zagazig University. He also rose in the ranks of the Muslim Brotherhood and joined its Guidance Bureau.
Mr Mursi served as an independent in the Brotherhood's parliamentary bloc from 2000 to 2005. He then lost his seat in his home constituency, after a run-off vote that he claimed was rigged.
As an MP, he was occasionally praised for his oratorical performances, for example after a rail disaster in 2002 when he denounced official incompetence.
He was chosen to be a spokesman for the Brotherhood and became chairman of the FJP after last year's Egyptian uprising.
With his calm, measured approach, Mr Mursi tends to chime with the conservative mainstream of the Brotherhood. Many insiders see him as a safe pair of hands.