Egypt fury over Mohammed Mursi 'coup against legitimacy'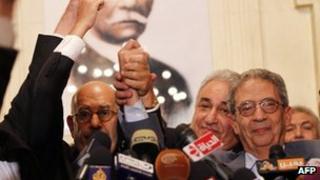 Opposition groups in Egypt have called for mass protests on Friday against President Mohammed Mursi's decree that gives him sweeping powers.
They have described his move as a "coup against legitimacy" and accused the president of appointing himself Egypt's "new pharaoh".
The decree states that the president's decisions cannot be revoked by any authority, including the judiciary.
His supporters say the move is designed to protect Egypt's revolution.
On Thursday, thousands celebrated the decree in front of the Egyptian High Court in Cairo.
But leading opposition figures later denounced it.
"This is a coup against legitimacy," said Sameh Ashour, head of the lawyers syndicate, in a joint news conference with Mohamed ElBaradei and Amr Moussa.
"We are calling on all Egyptians to protest in all of Egypt's squares on Friday."
Wael Ghonim, a key figure in last year's uprising against President Hosni Mubarak, said the revolution had not been staged "in search of a benign dictator".
"There is a difference between revolutionary decisions and dictatorial decisions," he said.
"God is the only one whose decisions are not questioned."
Mr ElBaradei, a Nobel Peace Prize winner, had earlier said the decree placed the president above the law.
"Mursi today usurped all state powers and appointed himself Egypt's new pharaoh. A major blow to the revolution that could have dire consequences ," he wrote on his Twitter account.
Thursday's decree bans challenges to Mr Mursi's decrees, laws and decisions.
It also says no court can dissolve the constituent assembly, which is drawing up a new constitution.
"The president can issue any decision or measure to protect the revolution," presidential spokesman Yasser Ali announced on national TV.
"The constitutional declarations, decisions and laws issued by the president are final and not subject to appeal."
Mr Mursi also sacked chief prosecutor Abdel Maguid Mahmoud and ordered the retrial of people accused of attacking protesters when Mr Mubarak held office.
Mr Mahmoud's acquittal of officers accused of involvement in attacks on protesters led to violent clashes in Cairo's Tahrir Square in October, when supporters and opponents of Mr Mursi clashed.
Thousands of protesters have returned to the streets around Tahrir Square over the past week demanding political reforms and the prosecution of officials blamed for killing demonstrators.
The president had tried to remove Mr Mahmoud from his post by appointing him envoy to the Vatican.
But Mr Mahmoud defied the Egyptian leader and returned to work, escorted by judges and lawyers.
New prosecutor Talaat Ibrahim is tasked with re-examining all the investigations led by Mr Mahmoud into the deaths of protesters, and re-trying people already acquitted in the case.
Mr Mursi said his decree was aimed at "cleansing state institutions" and "destroying the infrastructure of the old regime".
The declaration also gives the 100-member constituent assembly two additional months to draft a new constitution, to replace the one suspended after Mr Mubarak was overthrown.
The rewrite of the constitution, which was meant to be finished by December, has been plagued by lawsuits questioning the make-up of the constituent assembly.
Once completed, the document is due to be put to a referendum. If it is approved, legislative elections will be held two months later.