Bahrain reconciliation distant amid slow reform pace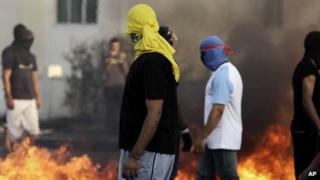 One year on from a groundbreaking report into human rights abuses in Bahrain, its author, the Egyptian lawyer Cherif Bassiouni, has cast doubt on claims that many of his recommendations are being implemented.
Mr Bassiouni told Human Rights Watch (HRW): "A number of recommendations on accountability were either not implemented or implemented only half-heartedly."
He was particularly critical of the decision of Bahrain's highest court to allow evidence to stand despite credible allegations of torture. He cited one case where the court declared the defendant's confession admissible because it was made several days after the torture occurred.
"I cannot think of a more egregious and specious legal opinion - admitting that the torture occurred but ruling the confession admissible and allowing the conviction to stand," Mr Bassiouni said.
"This constitutes a violation of the Convention Against Torture, to which Bahrain is a party."
Mr Bassiouni added: "You can't say that justice has been done when calling for Bahrain to be a republic gets you a life sentence and the officer who repeatedly fired on an unarmed man at close range only gets seven years."
His comments will be an embarrassment to King Hamad bin Isa Al Khalifah and his government.
However, a government spokesman told the the BBC that "no other country has voluntarily opened itself up to such scrutiny".
"You can go online in Arabic and English to see what has been recommended and you can measure the pace of the reform process. This is proof of our commitment to reform," Fahad al-Binali added.
The Gulf island kingdom has been wracked by 18 months of violent unrest that has seen at least 60 people, including several police officers, killed.
Damning indictment
In February 2011, peaceful demonstrators occupied a prominent landmark in Manama, Pearl Roundabout, in February 2011, demanding more democracy and an end to discrimination against the majority Shia Muslim community by the Sunni royal family.
The protesters were forcibly driven out of Pearl Roundabout by security forces in March 2011, after the king declared a state of emergency and brought in troops from neighbouring Sunni Gulf states to restore order and crush dissent.
Thousands of demonstrators or individuals who supported the protests were arrested, hundreds of whom were subsequently tried by special military courts. Thousands were also dismissed from them jobs, almost all of them Shia.
In the wake of widespread international condemnation of how the government handled the protests, King Hamad appointed Mr Bassiouni to lead an independent investigation into the allegations.
The Bahrain Independent Commission of Inquiry (BICI) report proved to be a comprehensive and damning indictment.
Its conclusions were accepted by the king, and the authorities also admitted excessive use of force by security personnel, numerous abuses including torture in detention, as well as the sacking of more than 4,000 employees in the private and public sectors.
The document made 26 recommendations calling for extensive judicial, legislative and policing reforms. It also called for the reinstatement of all the sacked workers.
But human rights groups, too, are now saying the government is dragging its feet in implementing the recommendations.
On Wednesday, Amnesty International released a report, arguing that the human rights situation in the kingdom has deteriorated "markedly".
The document - "Bahrain: Reform Shelved, Repression Unleashed" - highlighted "inadequate investigation" of torture allegations, the detention of children and "the harassment of human rights defenders and other activists".
One of the report's authors, Covadonga de la Campa, pointed to the recent banning of all public gatherings and rallies, and the revoking of citizenship of 31 Bahrainis, as evidence of "a worsening situation".
Joe Stork, HRW's Middle East director, said that "a year later, authorities still have not carried out the key recommendations".
'Door open'
However, Mr Binali described the BICI report as a document "that holds the government accountable".
He said that "freedom of expression goes on but freedom of association is being re-evaluated".
That is because, he said, violence had accompanied almost every protest.
Regarding the revocation of citizenship, he stressed: "This was a matter of national security. I can assure you the decision was not taken lightly. They have the right to appeal."
Those who lost their citizenship include two former members of parliament and several others who had already been acquitted of all charges.
As evidence that the government was committed to reforms, Mr Binali cited a figure from the labour ministry showing that 98% of the sacked workers were back at their jobs.
But Karim Radhi of the General Federation of Bahrain Trade Unions (GFBTU) has said that "at least 500 people" remain out of work.
And Jane Kinninmont, a Bahrain expert and senior research fellow at London's Chatham House, has argued that it is not just freedom of association that is under threat.
"There is legislation being considered that would make insulting parliament a crime," she said. "Four people were arrested recently for insulting the king on Twitter - freedom of expression is being re-evaluated too."
Mr Binali said the door was always open for dialogue and that the government wanted to include other voices from the "loyalist opposition".
"These are people who agree with some of the things the opposition parties are saying and some of what the government is saying but they don't feel represented by either."
Hardliners v moderates
Khalil al-Marzook, a member of the opposition al-Wifaq society, told the BBC that it was ready to sit down with anyone.
"We want meaningful dialogue," he said, adding that hardliners within the royal family did not want to talk with the opposition.
"They have the upper hand over the moderates and they will do whatever is necessary to stop the process of reform."
Ms Kinninmont described the BICI report as "extremely important in that for the first time it formally recognised problems, most notably torture".
It could still be the basis for agreement in some areas, she said, but it had disappointed many people, including those moderates in the ruling family who had hoped to use it as "a springboard for human rights, political reform and political dialogue".
That, she added, had not happened.
Mr Binali said that there was "no reason why the parties should not engage in dialogue to build trust and move Bahrain forward".
"Politics," he said, "is about dialogue and compromise. I am an optimist."
But the hardliners within the government are in no mood to compromise, even if al-Wifaq is ready to talk.
With that scenario and Mr Bassiouni's criticisms ringing in the air, a resolution to the crisis still seems a long way off.