Bahrain court sentences medics to prison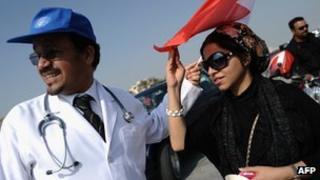 A Bahrain court has sentenced 23 medics to three months in jail each or payment of a fine for their role in last year's pro-democracy protests, officials say.
Five other medics have been acquitted, Prosecutor Abdulrahman al-Sayyed said.
The convictions follow the release of a critical Amnesty International report which says repression is "spiralling" in the kingdom.
The arrests of at least 95 health workers between February and March 2011 led to international outcry.
The 23 defendants had "committed crimes and violations, breaching the law and [medical] norms," Mr al-Sayyed said.
He added that the medics could pay a fine of 200 dinars (£330) to have their prison terms suspended, and had the right to appeal.
Civil strife
Bahrain has been wracked by more than 18 months of civil strife.
At least 60 people, including several police officers, have been killed since the anti-government uprising was crushed last year. The opposition puts the death toll at 80, a figure the authorities dispute.
In its latest study - entitled Bahrain: Reform Shelved, Repression Unleashed - Amnesty condemns what it says is the failure of the government of Bahrain to deliver on its promise of reform.
Instead, it argues, the human rights situation in the kingdom has deteriorated "markedly".
The case against the medics in particular has drawn international condemnation.
It dates back to February and March 2011, when they worked at the Salmaniya Medical Centre in Manama.
The hospital treated many of those hurt when the security forces crushed protests demanding more democracy and an end to discrimination against the majority Shia Muslim community by the Sunni royal family.
During the unrest, some medics at the Salmaniya Medical Centre spoke out against the crackdown in interviews with foreign media after treating the wounded, or took part in protests after ambulances were fired at.
After King Hamad declared a state of emergency and brought in troops from neighbouring Sunni Gulf states, at least 95 health workers were arrested, according to Physicians for Human Rights.
In September 2011, 20 of them were convicted by the National Safety Court, a military tribunal, of attempting to bring down the government and sentenced to up to 15 years in prison. Two were tried in absentia.
The medics and human rights groups said the convictions were political and aimed at stifling dissent. Many of the defendants said they had been harassed by the security forces and then tortured in prison, simply for trying to treat people wounded in anti-government protests.