Israel-Gaza crisis: New attacks amid truce discussions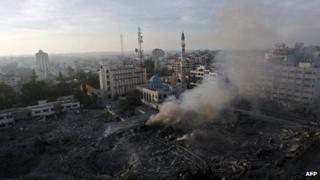 Israeli missiles have destroyed a key compound of the Hamas government in Gaza, as international mediators continue to try to broker a ceasefire.
The attack was one of 100 overnight by the Israeli military. Gaza officials said three Palestinians were killed.
Militants fired 29 rockets into Israel overnight, Israel says, and media now report a bus explosion in Tel Aviv.
US Secretary of State Hillary Clinton and the UN secretary general are in the region to discuss a ceasefire.
Mrs Clinton and Ban Ki-moon have been in the West Bank for talks with Palestinian Authority President Mahmoud Abbas. They will later travel to Egypt, where they will meet Egyptian President Mohammed Mursi in the early afternoon local time.
Sources in Gaza have told the BBC that talks on a ceasefire have already recommenced in Cairo.
Some 139 Palestinians and five Israelis have been killed since Israel launched its offensive, which it says is aimed at ending rocket fire from Gaza, with the killing last week of a Hamas military leader.
Media office
Israel's military, the Israel Defense Forces (IDF), said it had attacked more than 100 sites in Gaza overnight "of which approximately 50 were underground rocket launchers".
It said 29 rockets had been launched into Israel by militants in Gaza, of which 12 were intercepted by its Iron Dome missile defence system.
The BBC's Paul Danahar in Gaza visited the site of the attack on the Hamas ministry, to see a compound that had been laid to waste and was little more than dust and rubble.
Two men were salvaging burnt and damaged copies of the Koran from the rubble - one was digging the Korans out, the other dusting them off and stacking them up.
Our correspondent says this is probably the largest attack so far - on a compound that organises Hajj visits, issues passports and licences and houses a Hamas interior ministry office.
Other sites hit in Gaza included a banker's villa, tunnels to Egypt used by smugglers and a media office, said to be linked to Hamas, that was situated two floors above the Agence France-Presse office in Gaza City.
The Israeli military tweeted it had "surgically targeted a Hamas intelligence operations centre" on the seventh floor of the media building.
The BBC's Jon Donnison in Gaza says the streets were again empty on Wednesday morning, as people tried to protect themselves at home while waiting for something positive to come from talks in Cairo.
Rockets continue to be fired from Gaza. BBC correspondents saw one long-range-rocket heading out towards Israel, while the BBC's Katya Adler, on the Israeli side of the border, saw Israeli soldiers diving out of soft-top cars and on to the ground as a rocket fell.
She says the Israelis are again dropping leaflets warning civilians in Gaza to leave homes close to the border areas.
'Last-minute delay'
Israel's Haaretz newspaper is reporting that Mrs Clinton will also hold fresh talks with PM Benjamin Netanyahu - a day after a two-hour meeting in Jerusalem - as mediation efforts continue in search of a ceasefire.
In the West Bank, Mr Ban expressed "profound concern" at the civilian casualties in Gaza and also called on militants to end immediately their "indiscriminate attacks on Israeli population centres".
Officials from Hamas, the militant Palestinian group that ousted Mahmoud Abbas's Fatah faction from Gaza in 2007, had suggested on Tuesday that a truce would come into effect at midnight, but Israel later said it had not agreed to a text.
Israel's demands include no hostile fire of any kind from Gaza and international efforts to prevent Hamas from re-arming, while Hamas is demanding an end to the blockade on Gaza and targeted killings by Israel.
An Israeli official told Israel Radio the ceasefire had not been agreed because of "a last-minute delay in the understandings between Hamas and Israel".
Israeli spokesman Mark Regev told the BBC: "I have no doubt that Hamas would be more than happy to have a temporary respite - a time out... so they could rest and re-arm and we would have missiles on Israel next week or next month. We are not interested in that."
Haaretz says there are divided views in the government over the truce proposals, with Defence Minister Ehud Barak in favour of accepting an Egyptian draft, while Mr Netanyahu and Foreign Minister Avigdor Lieberman were opposed.
The BBC's Jon Leyne in Cairo says both sides want more out of this than just a ceasefire. The Palestinians want a lifting of the blockade of Gaza, permanently reopening the borders. He says the hope would be that this will defuse tension and reduce pressure on Hamas.
The Israelis want an end to attacks, our correspondent says, but specifically want to prevent Hamas restocking its missiles. He says the key to that is how the Egyptians can seal the border; but this is politically sensitive among the Egyptian people and also physically difficult, as the military has a lot of trouble controlling militants in Sinai.
Israel launched its current offensive a week ago with the killing of Hamas military leader Ahmed Jabari. The Israeli government says his assassination, and the subsequent offensive, aims to end rocket fire from Gaza.
Israel has troops massed along the Gaza border but says it is holding off on a possible ground invasion as talks continue.