Israel-Palestinian conflict: Life in the Gaza Strip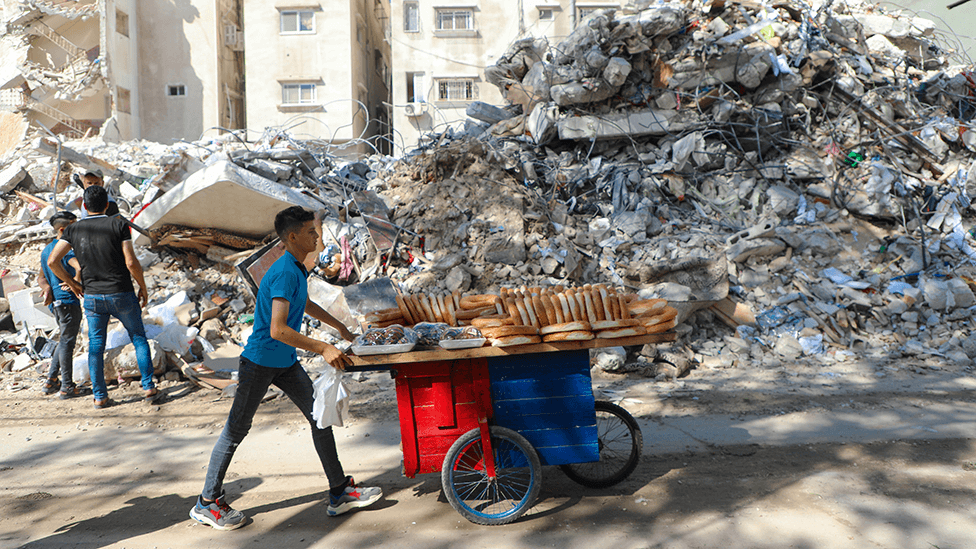 Home to about two million people, Gaza is 41km (25 miles) long and 10km wide, an enclave bounded by the Mediterranean Sea, Israel and Egypt.
Tensions between Gaza and Israel have recently escalated into the worst violence for several years and led the UN to warn of "a full-scale war".
Originally occupied by Egypt, Gaza was captured by Israel during the 1967 Middle East war. Israel withdrew its troops and around 7,000 settlers in 2005.
It is under the control of the militant Islamist group Hamas, which ejected forces loyal to the then governing Palestinian Authority (PA) after a violent rift in 2007.
Since then, Israel and Egypt have restricted the movement of goods and people in and out in what they say are security measures against militants.
What triggered the latest violence?
The Gaza fighting began after weeks of rising Israeli-Palestinian tension in occupied East Jerusalem that culminated in clashes at a holy site revered by both Muslims and Jews. On 10 May Hamas began firing rockets after warning Israel to withdraw from the site, triggering retaliatory air strikes. Exchanges intensified and hostilities quickly escalated into the worst violence between Israel and Gaza since 2014.
Rockets damage power lines
Power cuts are an everyday occurrence in Gaza. Before the latest upsurge in fighting, households in Gaza were receiving power on eight-hour rotations.
The latest violence is said to have damaged power lines and disrupted fuel supplies. According to the UN Office for the Coordination of Humanitarian Affairs (Ocha), most homes are now receiving power for only three-four hours per day.
The Strip gets most of its power from Israel together with further contributions from Gaza's only power plant and a small amount from Egypt.
Both the Gaza Power Plant (GPP) and many people's individual generators depend on diesel fuel, but supplies brought in via Israel are frequently blocked causing more disruption.
Border crossings often closed
Since Hamas came to power in Gaza in 2007, Egypt has largely kept its border with Gaza closed.
Last year additional restrictions were imposed to try to restrict the spread of coronavirus.
The Rafah crossing into Egypt and the Erez crossing into Israel were both shut on about 240 days and opened on only 125 in 2020, according to Ocha figures.
In 2019 about 78,000 people left Gaza via the Rafah crossing but in 2020 that fell to 25,000.
In the north, crossings into Israel at Erez also fell dramatically in 2020 - partly due to pandemic restrictions. This year about 8,000 people have left Gaza via the Erez crossing, most of them patients or people accompanying them for medical care in Israel.
Until the latest violence, traffic had begun to pick up again. Some aid convoys have since been allowed through, but otherwise crossings have remained shut.
About 80% of the population of Gaza depends on international aid, according to the UN, and about one million people rely on daily food aid.
The blockade imposed by Israel has severely impacted movements in and out of the Strip and the ability to trade.
To try to get round the blockade, Hamas has built a network of tunnels which it uses to bring goods into the Strip and also as its underground command centre. Israel says tunnels are also used by militants to move around out of sight and are being targeted by air strikes.
Coronavirus has also had an impact on the local economy, but it was just beginning to show signs of recovery, according to the World Bank, when the fighting broke out.
Overcrowding and damaged homes
Gaza has one of the highest population densities in the world. According to the UN, almost 600,000 refugees in Gaza are living in eight crowded camps.
On average there are more than 5,700 people per square kilometre - very similar to the density of population in London - but that figure rises to more than 9,000 in Gaza City.
Israel declared a buffer zone along the border in 2014 to protect itself from rocket attacks and infiltrations by militants. The zone reduced the amount of land available for people to live or farm on.
The UN estimated about 140,000 houses were damaged or destroyed in the 2014 violence and it has since supported almost 90,000 families with help to rebuild their homes.
Ocha says several hundred homes have been severely damaged in the latest fighting, but it will take some time to reveal the full extent of the damage.
Health service under strain
Gaza's public health system is in a precarious state due to various reasons. Ocha says Israel and Egypt's blockade, lower health expenditure from the West Bank-based PA and internal political conflict between the PA - which has responsibility for healthcare in the Palestinian territories - and Hamas are all to blame.
The UN helps out by running 22 healthcare facilities. But a number of hospitals and clinics were damaged or destroyed in previous conflicts with Israel.
Patients from Gaza needing treatment in West Bank or East Jerusalem hospitals must first get requests approved by the PA and then exit passes approved by the Israeli government - in 2019, the approval rate for patient applications to leave the Gaza Strip was 65%.
Over the last few months, the health situation has been exacerbated by coronavirus.
In April, a spike in cases saw almost 3,000 a day in Gaza. There have been more than 104,000 cases since the start of the pandemic and more than 946 people have died with the virus.
The World Health Organization (WHO) warns that the border restrictions are not only limiting access to life-saving treatment for victims of the hostilities, but they are also hampering the coronavirus response.
The WHO says it is affecting the "critical" vaccination programme and increases the risk of spreading the virus as people seek refuge with relatives or in emergency shelters.
More than a million people in Gaza are classed as "moderately-to-severely food insecure", according to the UN, despite many receiving some form of food aid.
Border crossings have been opened to allow aid convoys through, but shelling has caused some disruption to deliveries.
Israeli restrictions on access to agricultural land and fishing have reduced the amount of food Gazans can produce themselves.
They are not allowed to farm in the Israeli-declared buffer zone - 1.5km (0.9 miles) wide on the Gaza side of the border - and this has led to a loss in production of an estimated 75,000 tonnes of produce a year.
Israel imposes a fishing limit meaning Gazans can only fish within a certain distance of the shore. The UN says if the limit were lifted, fishing could provide employment and a cheap source of protein for the people of Gaza.
After the latest upsurge in violence, Israel temporarily banned any fishing from the Gaza Strip. Over the years it has set varying limits on the fishing zone, disrupting the livelihoods of about 5,000 fishermen and related workers.
Water shortages are routine
Most people in Gaza suffer from a shortage of water. Tap water is salty and polluted and is not fit for drinking.
While most Gazan households are on a piped water network, Ocha says families received water for only six-eight hours every four days in 2017 due to insufficient power. This has been reduced still further by the latest attacks.
The World Health Organization set the minimum requirement for daily water needs at 100 litres per head - to cover drinking, washing, cooking and bathing. In Gaza average consumption is about 88 litres.
Sewage is another problem. Although 78% of households are connected to public sewage networks, treatment plants are overloaded. Ocha says more than a hundred million litres of partially treated and raw sewage is pumped into the Mediterranean daily.
A new wastewater treatment plant came into operation at the beginning of 2021 to help deal with the problem.
Many children attend schools run by the UN and many of them are acting as places of shelter for people who have fled the latest shelling.
According to the Palestinian refugee agency UNRWA, 64% of its 275 schools run a "double shift" system, with one school of students in the morning and another in the afternoon.
An average class size was around 41 pupils in 2019.
The literacy rate for those aged 15-19 is now 99% - it has steadily increased over the past few years.
Although only about 66% of pupils stay on at high school to complete upper secondary or the equivalent of sixth form.
Gaza has one of the world's youngest populations, with almost 65% of the population under 25 years old, according to the CIA Factbook.
Many young people are unemployed.
An Ocha report from 2020 said youth unemployment was running at 70%, partly as a result of the pandemic.
Correction 28 July 2020: A previous version of this story has been amended to make clear that the Gaza Strip is still controlled by Hamas, and not the Palestinian Authority.