Bahrain activists demand action over rights abuses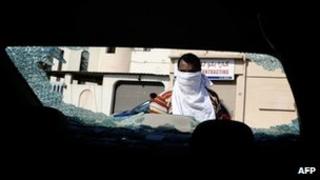 Leading Bahraini human rights activists have demanded "accountability" over government pledges to address abuses outlined in a report a year ago.
Meeting in the Netherlands, they said the government had failed to act on the recommendations of the report into the handling of anti-government protests.
King Hamad bin Isa Al Khalifa's government denies it has been stalling.
At least 60 people, including several police officers, have died in the civil strife that began on 14 February 2011.
The opposition says 80 people were killed, a figure disputed by the authorities.
Among those attending the talks in The Hague was Khalil Almarzooq, a leading member of the opposition Al Wefaq party; Dr Nada Dhaif, one of dozens of doctors and other health workers arrested and allegedly tortured last year; and S Yousif Almuhafda, a blogger and activist recently released from prison.
King Hamad appointed an independent tribunal to investigate allegations of abuse in the wake of widespread international condemnation of how the government handled protests last year.
Political will
The Bahrain Independent Commission of Inquiry (BICI), headed by Egyptian lawyer Cherif Bassiouni, released an indictment of the king's government on 23 November 2011.
It confirmed excessive use of force by security forces, numerous human rights abuses including torture in detention, as well as the sacking of more than 4,000 employees. Almost all were Shia Muslims, who form the majority in the Gulf island kingdom which is ruled by a Sunni royal family.
Mr Bassiouni made 26 recommendations calling for extensive judicial, legislative and policing reforms. He also called for the reinstatement of all the sacked workers.
The governments says that many of Mr Bassiouni's recommendations have been acted upon.
Bahrain's labour minister told the International Labour Organization (ILO) last week that 98% of the sacked employees were back at work.
"The ministry's efforts are aligned with the [BICI] recommendations and consistent with Bahrain's aims for reform and reconciliation," he told the meeting in Geneva.
However an assessment by the Washington-based Project on Middle East Democracy (Pomed) found that only three recommendations had been fully implemented, another 15 partially, and seven - arguably the most sensitive, according to analysts - had not been implemented at all.
Stephen McInerney, Pomed's executive director, acknowledged that the government had taken some steps, but told the BBC: "What is lacking is real political will to move forward."
He described the Bahraini government's claims as "not realistic".
A Bahraini government spokesperson called Pomed's assertions into question, insisting that "significant progress implementing the BICI recommendations has been made".