Mid-East press fears Gaza invasion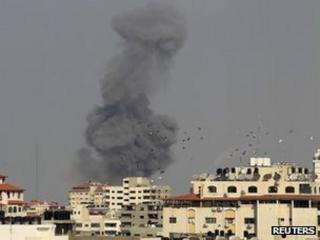 Newspapers in the Middle East are concerned with two questions: Will diplomacy steer the Gaza conflict towards a political settlement, or will Israel decide on a ground invasion?
Most papers see a ground operation as a disastrous option. Some commentators note that the world has changed since the last time Israel launched such an operation and say there would be little support for it.
Several commentators in the wider region say Palestinians need to put aside factional differences, and Hamas should not focus narrowly on its own gains.
Surgical strikes or all-out war?
Alex Fishman in Israel's centrist, mass-circulation Yediot Aharonot
A race against time is now under way… the chance of continued military escalation equals the chance of reaching a settlement through the diplomatic track this week. Fifty-fifty.
Dan Margalit in Israel's widely-read pro-Netanyahu Yisrael Hayom
Israel wants to avoid a ground offensive. Netanyahu and Barak are proponents of the surgical strike approach, as opposed to a wide-scale operation. However, for them to avoid the need to expand the operation, Israel must truly and earnestly prepare for it. He who desires surgical strikes must be prepared for all-out war.
Nahum Barnea in Yediot Aharonot
The government finds itself agonizing over the question of how to emerge from this story with a sense of victory. What will they say in Gaza, what will they say in the Arab world and above all what will the voters say at the elections in two months' time? Credibility, what about the credibility? It is discovering again what its predecessors discovered: All beginnings are easy, but exits are difficult.
Former Likud defence minister Moshe Arens in Israel's liberal broadsheet Haaretz
Even if a ground operation destroyed the terrorist rocket arsenal in Gaza, the question of rocket re-supply to the terrorists would remain to trouble the government and people of Israel.
Shalom Yerushalmi in Israel's centrist Ma'ariv
This war will end within a week more or less, because the world will not let it continue. We are not in the days of the "Cast Lead" operation in 2009... Today we are with Barack Obama, who hints through the New York Times what he thinks about a ground operation a la Cast Lead: Totally negative. We must start finishing, in the interest of all.
Fear of escalation
Hafith al-Barghuthi in Palestinian Authority newspaper Al-Hayat al-Jadidah
We need to prevent a land escalation of this aggression because it will lead to the killing of more Palestinians regardless of whether Hamas's leaders hoist the flag of victory or not, and regardless of whether the movement increases its popularity or not.
Samih Shubaib in pro-Fatah Palestinian newspaper Al-Ayyam
There is concern that if Israel expands its operations in Gaza it will destroy the infrastructure of Hamas and Islamic Jihad... that Hezbollah will enter the war against Israel to support Islamic Jihad in Gaza, and that Hamas may again launch suicide bombings in Jerusalem, Tel Aviv and other cities.
Salih al-Nuami in the Gaza Islamic National Salvation Party's semi-weekly Al-Risalah
Netanyahu understands that even Europe can change its support if there are pictures of body parts of women and children in Gaza on television... He will probably choose anyway to end the current round of conflict and spare himself embroilment in a land operation.
International stakes
Egypt's mass circulation Al-Ahram
Palestinian division is the main factor behind the declining importance of the Palestinian issue at the international level... Egypt has to play a pivotal role in rectifying the ongoing shortcomings among the Palestinians.
Mustafa Labbad in Lebanon's pro-Syrian Al-Safir
Palestinian national unity is no longer a luxury... Practical steps should be taken to stop the aggression on Gaza, break the siege and establish real Palestinian national unity beyond mere talk.
Rauf Shahuri in Lebanon's centrist Al-Anwar
Israel's main aim is to prove that the reality prevalent before the breakout of the Arab revolutions is the same and will remain the same... Israel is telling Arab Spring states that they have to choose between a US and Israeli peace on one hand and America's approval, continuation of aid and protection of new governments on the other hand.
Anwar Majid Ishqi in Saudi Arabia's Ukaz
The Israeli government still believes that blood is the price of victory, which is an obsolete theory. Obama's strategy does not see this but believes that the use of soft power, diplomatic, political and economic pressure and cyber wars are the best way to defeat countries... the leadership in Israel and Iran still believe in the principles of the 20th century and are working to occupy territories, while the world has evolved towards cultural and economic wars.
Ibrahim Karagul in Turkey's moderate Islamic Yeni Safak
This new world is a world where both Israel and the world order that protects it are being questioned with a much stronger voice.
BBC Monitoring reports and analyses news from TV, radio, web and print media around the world. For more reports from BBC Monitoring, click here.