Syria crisis: Refugee children 'face winter risks'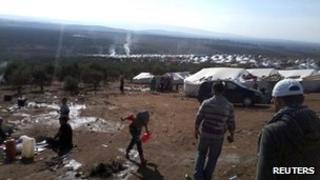 International charity Save the Children has warned 200,000 Syrian refugee children are at serious risk from freezing temperatures, as winter sets in the Middle East.
Many families have fled across the borders to Turkey, Jordan and Lebanon.
More than two million are displaced inside Syria, as fighting between government forces and rebels continues.
Save the Children says many are living without proper shelter and clothing and may not survive the harsh conditions.
The charity is launching an appeal for funds, saying the more vulnerable - the very young, the elderly and the sick - are most at risk if help does not reach them in time.
Some of the Syrian families who have crossed borders into neighbouring countries have been registered and settled in camps where their basic needs are looked after, says the BBC's Jim Muir in Beirut.
But many others are living in makeshift conditions without adequate shelter, bedding or warm clothes to face the torrential rains and sub-zero temperatures which are normal in many parts of the Middle East in winter, our correspondent adds.
About 400,000 Syrian refugees have been officially registered in neighbouring countries - a figure the UN expects to reach at least 700,000 by the end of the year, as hostilities continue in many parts of Syria.
Activists and observers say more than 38,000 people have been killed in the uprising against Syrian President Bashar al-Assad, which began last year.
Rebel weapons
Fighting has raged in and around Aleppo in the north, where rebels say they have seized an important military base.
Meanwhile, government artillery has been pounding the southern suburbs of Damascus.
Nato is considering a request from Turkey for ground-to-air missiles to help protect its border with Syria.
European foreign and defence ministers are also be discussing the idea of recognising the recently unified Syrian opposition coalition, and possibly lifting an arms ban so that the rebels can be supplied with weaponry such as anti-aircraft missiles.
However, Islamist factions among the armed opposition in Aleppo, Syria's biggest city, have rejected recognising the coalition, the AFP news agency reports.
"We, the fighting squads of Aleppo city and province, unanimously reject the conspiratorial project of the National Coalition and announce our consensus to establish an Islamic state," stated a video reportedly posted online jointly by the al-Nusra Front and Liwa al-Tawhid groups.
But in a phone call to the BBC, Col Malek Kurdi, deputy commander of the main rebel Free Syrian Army, said: "We welcome the coalition and we think it is a massive step to bring all Syrians together. We will support and welcome whatever unifies the battalions on the ground," he said.