Syrian rebels 'capture airport'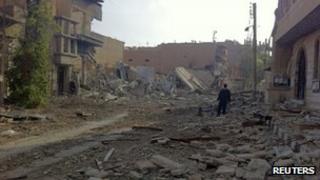 Syrian rebels say they have captured an airport near the border with Iraq.
The airport of Hamdan in Deir al-Zour province, near the town of Albu Kamal, had been converted by government forces for military use.
The Syrian Observatory of Human Rights, an activist network, said rebels now controlled "large swathes of land".
Meanwhile, Israel's army said it had fired shells at Syrian fighters in the Golan Heights after Syrian gunfire hit an Israeli vehicle early on Sunday.
"Soldiers responded with artillery fire towards the source of the shooting... A direct hit was identified," an Israeli army spokeswoman told AFP, of the latest in a spate of exchanges during the past week.
Cameraman released
France earlier said it would allow the Syrian opposition to appoint an ambassador to Paris.
French President Francois Hollande announced the move after talks with the head of a newly formed opposition coalition, Moaz al-Khatib.
Mr Khatib said that the new ambassador's post would be filled by Monzir Makhous, an academic.
France became the first Western nation to recognise the National Coalition earlier this week.
Also on Saturday, Syrian government forces released a Turkish cameraman who had been held since August.
Cuneyt Unal was taken captive in Aleppo in August.
Activists and observers say more than 38,000 people have been killed in the uprising against Syrian President Bashar al-Assad, which began last year.