Gaza crisis: A critical juncture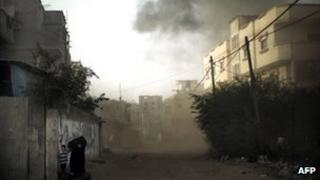 This is a critical juncture in what has so far been described as a "limited" Israeli operation - or at least one confined to the skies above and around Gaza.
Even though many civilians have been killed and injured in Israel and Gaza, if Israel decides to launch a ground invasion - sending tanks and troops into Gaza - there will, inevitably, be many more casualties.
The spectre of another full ground invasion and conflict that could last for weeks, fills anyone who remembers the events of 2008-9 with dread and horror.
In the coming hours Israel and, separately, Hamas, must decide where this conflict is going, but the portents do not look good.
Even as the Egyptian Prime Minister Hisham Qandil was making the briefest of visits to Gaza, a truce arranged to cover the duration of his stay collapsed, with both sides accusing the other of firing rockets or missiles.
Neither Israel nor Hamas have indicated that they are persuaded to pursue a longer, more permanent ceasefire and, all day long, Palestinian militants have fired rockets and Israeli aircraft have continued to pound the Gaza Strip.
Unlikely to end
Theoretically, Israel and Hamas could "walk away" now - Israel has scored an undoubted success with the assassination of Hamas military leader Ahmed Said Khalil al-Jabari, while the militant groups have shown they are capable of firing large medium-range rockets as far as the southern suburbs of Israel's largest city.
But it is unlikely to end here. Gaza's already full hospitals are ready to accept more innocent casualties while Israeli civilians in Tel Aviv and Rishon Lezion are getting used to being within sprinting range of bomb shelters.
A renewed ground war could be disastrous for both Hamas and Israel.
Some Palestinian militants could relish the prospect of engaging many more Israeli towns and cities - and what that might mean for the popularity of Israeli Prime Minister Benjamin Netanyahu.
Equally, he might regard this an opportunity to crush Hamas, its fighters and its infrastructure once and for all - even if no-one is sure what will emerge the day after the fighting stops.