Press unease at deepening Gaza conflict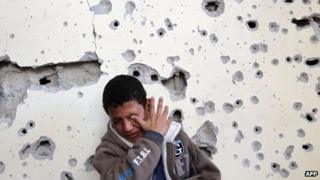 As violence between Israel and militants in Gaza continues, the Palestinian press continues its defiant stance, while papers in Israel betray a sense of unease that Tel Aviv has now become a target.
In the wider region, the role of Egypt is considered as its prime minister, Hisham Qandil, visits Gaza. One pan-Arab paper says that Egypt is restoring its dignity in the post-Mubarak era by taking a firm stand against Israel.
But Egypt's largest daily says it must be cautious about any moves to sever completely its ties with Israel, to avoid drawing the region into a war.
Palestinian press
Mahmud al-Ajrami in Gaza-based Filastin newspaper
Steadfast Gaza has no shield but is armed with strong faith… It has just started writing its statement of victory.
Editorial in privately-owned, Jerusalem-based, pro-Fatah Palestinian newspaper Al-Quds
The expressions the Israeli government used to cover its aggression on the Gaza Strip focused on military "deterrence" and regaining it. It didn't include even a single reference to peace or even any consideration for the existence and national aspirations of the Palestinian people.
Dr Isam Shawir in Hamas-run, Gaza-based Filastin Online newspaper
The enemy may have wanted to end the battle before its losses mount and before it is embroiled deeper against the Palestinian resistance. Following its stupidity and arrogance, the enemy has become embroiled and it will pay the price.
Adli Sadiq in Palestinian Authority-owned Al-Hayat al-Jadidah
If Egypt wants to show solidarity with the Palestinian people, it should first urge Hamas to learn from the Israeli aggression and pursue national unity.
Israeli press
Editorial in liberal Israeli broadsheet Ha'aretz
Every military campaign that Israel conducts places great strain on the delicate fabric of its ties with other countries in the region... Israel will derive little security benefit if the military operation... destroys our relationships with Egypt and Jordan... and diverts world attention from Syria to Gaza and Jerusalem.
Yoav Limor in Israel's pro-Netanyahu Yisrael Hayom
For the first time a terror organisation has succeeded in creating a formula that includes hitting Tel Aviv… Israel needs a significant achievement that cancels out the success of hitting the Tel Aviv region.
Former Israeli military intelligence chief Amos Yadlin in mainstream newspaper Ma'ariv
The objectives of Operation Pillar of Defence are measured and have been cautiously drafted: to restore Israeli deterrence opposite Hamas by hitting hard at the Palestinian terror organisations in Gaza and depriving them of the ability to use their strategic array of long-range rockets. 
Editorial in English-language Jerusalem Post
While Israel has not only the right but the moral obligation to defend the residents of the South, Operation Pillar of Defence - like Operation Cast Lead - will not change the fundamental dynamics in Gaza. We hope that, as was the case with Cast Lead, Pillar of Defence will restore our military deterrence, which - in the present geopolitical situation - is the only means of achieving quiet in the South.
Zvi Barel in liberal Israeli broadsheet Ha'aretz
Egyptian President Mohammed Mursi is facing one of the most difficult political challenges of his brief tenure… His decision to send Prime Minister Hisham Qandil to Gaza today is intended to make clear that the government supports Hamas and the Palestinian people in Gaza.
Middle East press
Abd-al-Bari Atwan in London-based pan-Arab pro-Palestinian Al-Quds Al-Arabi
The revolution in Egypt has changed the equation and broken the shackles of the Camp David agreement. Egypt is regaining its dignity and pride and has sent its prime minister to the Gaza Strip with a double message; first to the hungry people of besieged Gaza to emphasise Egypt's support, and secondly to Israel saying that Egypt will not stand with its hands tied in the face of any Israeli aggression.
Editorial in Egyptian pro-government, largest-circulation Al-Ahram
By its decision to summon its ambassador from Tel Aviv, Egypt has sent a strong message to Israel that Egypt is totally different from what it had been during the reign of Hosni Mubarak.
Commentary in Egypt's pro-government Al-Jumhuriyah
Israel's continued aggression on Gaza has been described as an electoral manoeuvre using rockets and jets... Observers point out that Netanyahu has ordered the attack to strengthen his position against his extremist opponent (Foreign Minister Avigdor) Lieberman and Israel's Our Home Party to convince the Israeli voter that the army is the only force capable of deterring Palestinian militants.
Editorial in Saudi Arabia's privately-owned, pro-government daily Al-Watan
Wednesday's attack is a military message warning the Palestinian [National] Authority against going to New York to request becoming a non-member [UN] state.
Dhiya al-Fahum in Jordan's privately-owned, pro-government Al-Dustur
Restraining Israel should not be postponed … It's high time to get all countries, international organisations and institutions to relinquish double standards when dealing with all international and humanitarian issues, particularly where severe injustices have been going on for decades.
Murat Mentes in Turkey's Yeni Safak
It seems that the rest of the world has got used to Israel's craziness. Everybody is watching it add to the longest massacre in history.
Ahmet Altan in Turkey's leftist Taraf
The government in Israel wants to solve every problem with violence and this has plunged the Middle East into a death spiral once again.
BBC Monitoring reports and analyses news from TV, radio, web and print media around the world. For more reports from BBC Monitoring, click here.