Obituary: Ahmed Jabari, Hamas commander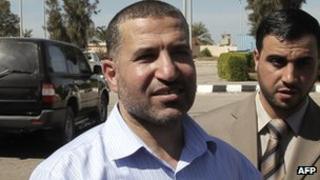 Ahmed Jabari, the shadowy commander of Hamas's militant wing, the Izz al-Din al-Qassam Brigades, was one of Israel's most wanted men.
He was killed on 14 November 2012 in an Israeli air strike as he drove through Gaza City.
Israel's Shin Bet security service said Jabari had been responsible in the last decade for "all terrorist activities against Israel from Gaza".
"His elimination… is a message to Hamas officials in Gaza that if they continue promoting terrorism against Israel, they will be hurt," it warned.
Hamas, which governs Gaza, described Jabari as "one of the symbols of the resistance" and said it held Israel "responsible for the consequences of this crime".
The previous day, Israeli MP Amir Peretz, a former defence minister, had noted that finding a replacement for the Qassam Brigades commander would be "very hard".
'More radical'
Jabari, who was 52, was born in the Shujaiya district of Gaza City and studied history at Gaza's Islamic University.
According to Arabic broadcaster al-Arabiya, he was arrested by Israeli security forces in 1982 when he was an activist with the Fatah movement, which has long been a rival of Hamas.
However, while serving a 13-year prison sentence for planning deadly attacks on Israel, Jabari met some of Hamas's top leaders - including its late co-founder Abdel Aziz al-Rantissi and Salah Shehada - and decided to join the Islamist movement.
Following their release, Shehada became the commander of the Izz al-Din Qassam Brigades, which Hamas set up to pursue its political goals militarily. Jabari is believed to joined him within the organisation and risen steadily through its ranks.
The Israeli military says Jabari became involved with Hamas's military activities in the Gaza Strip while the coastal territory was still occupied by Israel.
In 1998, Jabari was arrested by the Preventative Security Force of the Palestinian Authority, according to the Israeli military. He was released in late 1999.
In 2002, at the height of the second Palestinian intifada, or uprising, Shehada was killed in an Israeli air strike.
He is believed to have been succeeded by Mohammed Deif, who himself was wounded in an Israeli attack several months later.
While Deif recovered, Jabari became operational head of the Qassam Brigades, which was responsible for dozens of suicide bomb attacks on Israeli targets during the intifada.
In 2005, Hamas posted the names of its top seven military commanders on its website. Ahmed Jabari was the second most senior, after Mohammed Deif.
The next year Deif was seriously injured in an Israeli air strike in Gaza City.
Afterwards, Jabari is said to have again taken over running the Qassam Brigades on a day-to-day basis, although some believe Deif remained his equal or superior.
Jabari was said to hold more radical and extremist views than the political leadership, portraying his quest as one of "jihad".
"I am a fighter for God. You will find me anywhere, anyplace, fighting the enemies of Islam. I will be honoured to represent Mohammed Deif on the battlefield," he stated in a television interview.
"We don't seek positions in the government or leadership; our aim is to fight the enemies of Islam."
Shalit negotiations
Israel held Jabari responsible for the Hamas "build-up" policy from 2006 onwards, which saw it expand the Qassam Brigades in the wake of the second intifada, reorganise its military formations, carry out large-scale training operations, prepare Gaza's outlying areas for defence, and acquire advanced weapons.
Under Jabari, the Qassam Brigades focused primarily on manufacturing large numbers of rockets which were fired at targets in southern Israel.
But he also took charge of the detention of the Israeli soldier Gilad Shalit, who was captured by Gaza-based militants in a cross-border raid in 2006. Some reports also said he instigated the raid.
In 2007, Jabari is widely believed to have played a leading role in the ousting of forces loyal to Palestinian Authority President Mahmoud Abbas in Gaza during clashes.
Hamas, which had won the Palestinian parliamentary elections the previous year, then set up a rival government in the territory.
By December 2008, it was estimated that Jaabari commanded about 20,000 fighters in Gaza and reportedly presided over a Hamas "war cabinet".
At the end of that month, following the end of a six-month truce, the Israeli military launched a ground offensive in the Gaza Strip, designed to destroy Hamas infrastructure, prevent the firing of rockets and decapitate its leadership.
The three-week conflict left 1,400 Palestinians dead, including hundreds of civilians, as well as 13 Israelis.
After the offensive, Hamas's capacity to launch rocket attacks was reduced but not destroyed. Although the senior Hamas leader Said Siyam was killed in an air strike, Jabari came out of the conflict alive.
He reportedly took extreme care to ensure he was not a target for assassination, moving carefully through Gaza and never carrying a mobile phone, a friend told the AFP news agency.
The Israeli air strike which killed him was not the first attempt on his life. In 2004, warplanes attacked his house, killing one of his sons and three other relatives.
Jabari therefore shocked many observers when he appeared on television personally escorting Sgt Shalit to the Rafah border crossing with Egypt in October 2011, after a prisoner exchange was agreed between Hamas and Israel.
In an interview with the pan-Arab newspaper al-Hayat, Jabari confirmed that most of the 477 Palestinians released in the first part of the deal had been responsible collectively for the deaths of 569 Israeli civilians. Another 550 prisoners were released in a second tranche.
He is known to have played a major role in the negotiations - something Israeli military spokeswoman Lt Col Avital Leibovich acknowledged after his death.
She also said Jabari had "a lot of blood on his hands".