Profile: Syrian National Council chairman George Sabra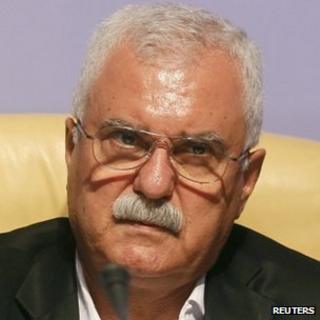 George Sabra, the new chairman of the Syrian National Council (SNC), is a Christian and veteran leftist dissident who has been imprisoned repeatedly by the Syrian government.
He was elected on 9 November 2012 at a conference in Qatar, only two days before opposition factions agreed to create the National Coalition for Syrian Revolutionary and Opposition Forces.
Mr Sabra said the SNC would not be "subsumed" by the new umbrella group, in whose leadership group it has been allocated 22 of the 60 seats.
"The SNC is older than this initiative or any other initiative, and it has a deep political and regional structure," he told a news conference.
Communist Party
Mr Sabra was born in the mixed Damascus suburb of Qatatna in 1947.
In 1971, he graduated with a degree in geography from Damascus University and seven years later gained a degree in educational technology systems from the University of Indiana.
He became politically active while a student, joining the Syrian Communist Party (Political Bureau) in 1970.
Mr Sabra worked as a geography teacher before being elected to the Communist Party's Central Committee in 1985.
In 1987, he was arrested during a crackdown on the party by the government of the late President Hafez al-Assad and was sentenced to eight years in prison by a state security court.
Following his release from Sednaya prison, Mr Sabra resumed his political activities and in 2000 he was asked to represent the Communist Party in the National Democratic Assembly, a coalition of leftist parties. He was subsequently elected to its Central Committee.
In 2005, he co-founded the Damascus Declaration, a coalition of political parties, human rights groups and pro-democracy activists named after a document which demanded Syria's transformation from a "security state to a political state" based on free and regular elections, a democratic constitution, the rule of law, pluralism, and individual rights.
That year, the Communist Party also changed its name to Syrian Democratic People's Party and formally abandoned Marxism-Leninism for social democracy.
'We want weapons'
Mr Sabra remained in Syria after the uprising against President Bashar al-Assad began in March 2011 and marched in early demonstrations. He was imprisoned in July 2011 later for "undermining state morale" and calling for anti-government protests.
He was released from jail in September 2011 and later fled to Turkey when the security services began targeting prominent opposition figures. He then joined the Syrian National Council as the representative of the Syrian Democratic People's Party.
Mr Sabra emerged as a candidate to replace the SNC's first leader, Burhan Ghalioun, in May 2012, but he lost out to Abdulbaset Sayda.
In November 2012, Mr Sabra failed to win a seat in the SNC's new 41-member general secretariat, reportedly due to a technicality, but the Revolutionary Movement gave him one of its places.
He subsequently defeated Hisham Mroue to become the SNC's chairman. Mohammed Farouq Taifour of the Muslim Brotherhood - which is said to dominate the SNC - was chosen by delegates as his deputy.
Speaking shortly after his election, Mr Sabra said his most immediate priorities were reorganising the SNC's internal structure as well as "defending ourselves and our children".
In an interview with the pan-Arab newspaper al-Hayat, he appealed to the international community for help in arming the rebels, stating: "Quite clearly, we want weapons."
London-based al-Sharq al-Awsat said Mr Sabra's appointment proved that the Syrian opposition was non-sectarian and that Islamists from the Muslim Brotherhood were sufficiently flexible.
"The significance of electing Sabra is in that the 'minority card' can no longer be played, and that it shows that the Muslim Brotherhood's greed has limits," a commentary in the newspaper said.
Outside of politics, Mr Sabra is well-known in Syria as one of the writers of the Arabic version of "Sesame Street", the popular children's TV show.
BBC Monitoring reports and analyses news from TV, radio, web and print media around the world. For more reports from BBC Monitoring, click here