Palestinian UN observer state bid on 29 November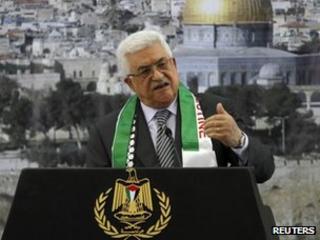 The Palestinian Authority will present its bid for Palestine to become a UN "non-member observer state" on 29 November, President Mahmoud Abbas says.
The request is being made despite US and Israeli opposition.
Mr Abbas said that if the bid were successful, he would begin negotiations with Israel "the next day".
A Palestinian bid to join the international body as a full member state in 2011 failed because of a lack of support at the UN Security Council.
Currently, the Palestine Liberation Organisation (PLO), the umbrella group which represents most Palestinian factions and conducts negotiations with Israel, only has "permanent observer" status at the UN.
Mr Abbas, who is also chairman of the PLO, wants Palestine to be admitted as a non-member observer state based on the boundaries which existed before Israel occupied the the West Bank, East Jerusalem and the Gaza Strip during the 1967 war.
Mr Abbas said: "We don't want any confrontations with the United States or Israel. If we could start a dialogue or negotiations the day after the vote, we will."
Financial penalties threat
Being a non-member observer state - a status already held by the Vatican - would improve the Palestinians' chances of joining UN agencies and the International Criminal Court, although the process would be neither automatic nor guaranteed.
The request would be put to the UN General Assembly, where approval would require a simple majority of those present. There is no threat of veto, as there would be at the Security Council if the Palestinians sought full member-state status.
A draft copy of the Palestinian resolution was sent to member states on Wednesday.
The BBC's Jon Donnison in Ramallah says the request is likely to be approved.
However, Israel and the US have threatened financial penalties if the Palestinians press ahead with the UN bid, saying the only way to achieve an independent state is through negotiations, our correspondent adds.
Senior Palestinian official, Mohammed Shtayyah, said President Abbas had discussed the UN bid with President Barack Obama by telephone on Sunday, but that the US leader had offered nothing that would stop him from submitting a resolution.
The White House said Mr Obama had reiterated his "opposition to unilateral efforts at the United Nations" and "reaffirmed his commitment to Middle East peace and his strong support for direct negotiations".
Palestinian officials say the UN move is not an alternative to wider negotiations but something that could strengthen their hand in future talks.
But our correspondent says the situation is further complicated because Mr Abbas does not speak for all Palestinians. The rival Islamist group Hamas, which governs in Gaza says the UN approach is a waste of time.