Syria crisis: MidEast media broadly upbeat over opposition deal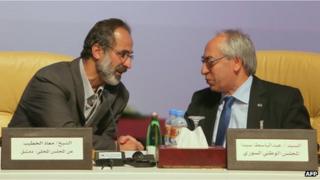 There was optimism in the Middle Eastern media after a deal was reached in Qatar to form a new umbrella group for the Syrian opposition. Commentators pointed out that much remained to be done and stressed the need for unity.
In Syria, government-owned newspapers dismissed the new body as "illusionary", while Iranian media cautioned against military action.
An editorial in Qatar's Al-Rayah, an independent daily with close ties to the ruling family, thought the agreement was "an exceptional step forward".
It "finally succeeded in bringing Syrians together in a broad coalition representing all sides of the Syrian people, which enhances confidence in the revolution's ability to win over injustice, oppression and tyranny", Al-Rayah said.
'Come together'
Al-Watan, a pro-government Saudi newspaper, was also upbeat, but warned that more remained to be done.
President Bashar al-Assad's opponents now need "to look into the future with new eyes that do not see personal ambitions and do not recognise anything else but the collective interest of a suffering country and bleeding people", Al-Watan's editorial said.
It went on to argue that insurgents on the ground must close their ranks as well and "work under one leadership which can bring together the scattered military effort".
Calls for unity within the Syrian opposition were also echoed by Al-Bayan, a pro-government daily in the UAE. "The Syrian opposition should come together and overcome narrow interests," it said.
However, an editorial published by the paper favoured a political rather than military approach to resolving the crisis. "A political solution is the gateway to solving the humanitarian suffering of all the Syrian people and without it, efforts by the international community will remain a waste of time," said an editorial in Al-Bayan.
Al-Safir, an Arab nationalist newspaper based in Lebanon, said the new Syrian opposition body came into being only after a "long dialogue punctuated by financial threats and political pressures". It quoted an unnamed "prominent Syrian dissident" as saying progress was only made after Qatar and the USA threatened to cut off financial aid.
'Illusionary' coalition
Syria's government-owned press was unanimous in condemning the opposition meeting in Doha. Al-Thawrah called the new coalition "illusionary" and said it was directly linked to those "practicing terrorism" in Syria. According to Al-Thawrah, all the rebels' statements in the media came down to one plea: "We want weapons, we want weapons, we want weapons."
Tishrin, another government-run Syrian newspaper, was equally dismissive of the Doha accords. "What comes out of this opposition meeting will not change anything as the Syrians will continue to see the opposition as mere structures and groups who act on Western orders against the interests of their country and its stability," a commentary in the daily said.
In Iran, pro-reform daily Mardom Salari wrote that the Doha meetings brought the Syrian opposition more into line with US objectives. According to the paper, Washington aims to form a more robust plan to bring down Bashar al-Assad by using military force, while counteracting religious extremists within the ranks of his opponents. But, the paper went on, "the military solution in Syria is not very effective and will lead nowhere".
Another Iranian newspaper, hardline Qods, chose to focus on Moscow's plan for Syria, which involves power-sharing between President Assad and the rebels. "The main problem, however, is that there is no clear framework for reconciliation," lamented Qods.
BBC Monitoring reports and analyses news from TV, radio, web and print media around the world. For more reports from BBC Monitoring, click here.