Israel hit by fresh volley of rockets from Gaza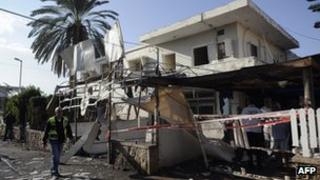 A fresh volley of rockets from Gaza have hit Israel amid some of the most intense cross-border fighting in weeks.
Israel says 11 rockets landed, one of which fell next to a house in Netivot. Several people were treated for shock.
Earlier, six Palestinians, including two militants, were killed in Israeli air strikes on Gaza, following an attack by militants on an army jeep.
Israeli Prime Minister Benjamin Netanyahu vowed to "take action to put a stop" to the rocket-fire.
Speaking on a visit to the southern city of Ashkelon on Monday, he said: "The world must understand that Israel has the right and a total obligation to defend its citizens."
"We are not going to sit idly by when we confront the repeated almost daily attacks on our citizens and children."
Hamas, the Islamist group which governs the Gaza Strip, said members of militant groups in the coastal territory were meeting "to discuss the Israeli aggression", the AFP news agency reported.
The EU's foreign policy chief, Catherine Ashton, urged both sides to "refrain from exacerbating the situation" during a visit to Egypt. Cairo is reported to have been trying to arrange a ceasefire.
The latest flare-up of violence began on Saturday evening, when Palestinian militants fired an anti-tank missile at an Israeli patrol on the Israeli side of the border fence, wounding four soldiers.
The Israeli army responded by shelling sites in Gaza, killing six Palestinians, including four civilians.
Since then, more than 100 missiles have been fired into Israel, and the Israeli military has carried out a series of air strikes, officials say.
On Sunday night, the Israeli Air Force targeted what it said were a "terror tunnel and a weapons facility" in northern Gaza, and a rocket-launching site in the south. There were no reports of casualties.
As well as the six people killed in Gaza, dozens of Palestinians and at least eight Israelis have been injured since Saturday.
Militant factions, excluding Hamas' military wing, the Izz al-Din al-Qassam Brigades, said they fired the latest round of rockets. Israel holds Hamas responsible for all attacks emanating from there.
The latest bout of fighting follows clashes in which a 13-year-old Palestinian youth was killed and an Israeli soldier hurt when militants blew up a tunnel in what they said was revenge for the boy's death.