Gaza: Palestinians killed and Israeli soldiers injured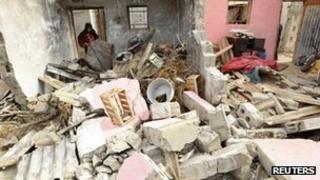 Six Palestinians have been killed and more than 20 injured in a series of clashes close to the border between Israel and the Gaza Strip.
Hamas officials said Israeli fire had killed five at a funeral in Shijaia, near Gaza City. An Islamic Jihad member died in a separate Israeli air strike.
Israel said it was responding to a missile attack on an army patrol that injured four Israeli soldiers.
On Sunday, Israel's PM warned it was "prepared to escalate" its response.
"The world must realise that Israel won't sit by idly in the face of attempts to attack us. We are prepared to escalate our actions," Benjamin Netanyahu said at his weekly cabinet meeting.
However, the BBC's Wyre Davies in Jerusalem says it is not clear whether Israel is contemplating another large-scale operation against militants in Gaza, as it carried out four years ago.
Brief calm
According to Israeli sources, more than 50 rockets have been fired from Gaza towards Israeli border towns since Saturday night.
Schools have been closed throughout the region and people who go outside are being advised to remain close to bomb shelters.
The Israel Defence Forces said they had targeted several sites in the Gaza Strip in response to the attack on the patrol along the security fence.
"The IDF will not tolerate any attempt to harm Israeli civilians, and will operate against anyone who uses terror against the state of Israel," it said.
"The Hamas terror organisation is solely responsible for any terrorist activity emanating from the Gaza Strip," the statement added.
A spokesman for Hamas militants threatened to respond further to Saturday's shelling.
"Targeting civilians is a dangerous escalation that cannot be tolerated. The resistance has the full right to respond to the Israeli crimes," Fawzi Barhoum said in a text message sent to reporters, the Associated Press news agency reports.
Saturday's exchanges followed a week of violence.
A 13-year-old Palestinian boy was killed as militants clashed with Israeli soldiers in Gaza on Thursday.
Later, an Israeli soldier was hurt when a tunnel blew up near the Gaza border fence, the Israeli military said.
The tunnel was one of the biggest seen in recent years and could have been part of a plan to kidnap or kill soldiers, an Israeli army spokeswoman said.
Hamas's military wing, the Izz al-Din Qassam Brigades, said it caused the blast, in response to the killing of the boy.