Syrian National Council chooses George Sabra as leader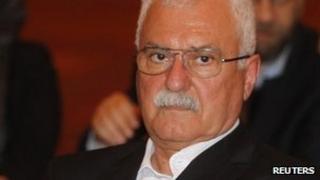 The Syrian National Council has chosen a Christian former Communist as its leader after talks in Qatar.
George Sabra said his election showed that the SNC was not sectarian, and he appealed for more weapons to help overthrow President Bashar al-Assad.
The SNC was discussing a plan to merge with other groups to form a wider anti-Assad bloc, but it failed to agree terms and will meet again on Saturday.
The US and the Gulf states, which fund the SNC, want the merger.
The SNC had been due to make a decision on Friday, but internal wrangling forced it to ask for an extra 24 hours.
The proposed unified group, tentatively called the Syrian National Initiative, is intended to merge disparate military and political groups to form a credible alternative to Mr Assad's government.
'Stop the bloodbath'
Activists and monitors estimated that more than 36,000 people have been killed in a long-running uprising against his rule.
On Friday, the UN said 11,000 Syrians had fled across the border in the previous 24 hours.
According to Turkish media, many of those who fled to Turkey were deserters from the Syrian armed forces.
Mr Sabra said he had just one demand of the international community: "To stop the bloodbath and help the Syrian people chase out this bloody regime by providing us with weapons."
The veteran activist has been a staunch opponent of Mr Assad and his father, former President Hafez al-Assad.
He fled into hiding late last year and eventually went into exile in Turkey.
He has been jailed several times, by the current government and the government of Hafez al-Assad.