Gaza: Palestinian boy 'killed by Israeli gunfire'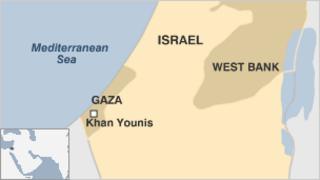 A Palestinian boy has been killed by Israeli gunfire in the Gaza Strip, during clashes between Israeli forces and militants, Palestinian medics say.
The boy, said to be about 12, was hit by rounds fired by an army helicopter, the sources said. Israel said it had no information about the reported death.
Later, an Israeli soldier was hurt when a tunnel blew up near the Gaza border fence, the Israeli military said.
It is the latest in a spate of violence between Israel and militants in Gaza.
Earlier this week, three Israeli soldiers on patrol along the border fence were also wounded by a bomb explosion, the military said.
The Palestinian boy was reportedly killed on Thursday during clashes which erupted when militants opened fire on Israeli forces which had entered Gaza.
"Terrorists opened fire at IDF [Israeli Defence Forces] soldiers while they were performing routine activity adjacent to the security fence," military spokeswoman Avital Leibovich said.
The AFP news agency quoted Hamas health ministry spokesman Ashraf al-Qudra as saying the boy, Yunes Abu Daqqa, "was killed by bullets fired from an Israeli helicopter during an incursion" in southern Gaza.
Soon after, a large tunnel blew up near the border fence, throwing a military vehicle 20m (65ft) into the air and injuring the soldier, said Israeli military spokeswoman Lt Col Avital Leibovich.
The tunnel was one of the biggest seen in recent years and could have been part of a plan to kidnap or kill soldiers, she added.
Hamas' military wing, the Izz al-Din Qassam Brigades, said it caused the blast, in response to the killing of the boy.