Israel and Palestinians set out hopes after US election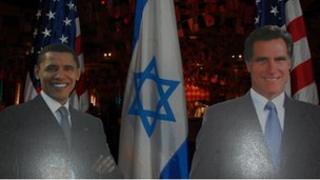 Guests lined up to pose with life-size cut-out candidates of President Barack Obama and his Republican challenger, Mitt Romney, at a US embassy party in Tel Aviv.
They included some of the estimated 250,000 American-Israelis eligible to vote in this election. In line with recent opinion polls of all Israelis, a majority said they had supported Mr Romney.
"I have to say I'm a Republican when I vote in America despite the fact that I vote very liberal in Israel," commented Tamar.
"I strongly believe the Republican Party will support Israel's best interests: security of our borders. All my kids are army service age," she added.
"I voted Romney," said Zach. "I believe he'd take a hard line on Iran and that's what I'm looking for as opposed to the Obama sanctions."
While Prime Minister Benjamin Netanyahu strongly denied showing a preference and was quick to offer his congratulations to President Barack Obama after his victory, his critics claimed that he too had shown favouritism for the Republican candidate during the election campaign - breaking traditional protocols.
Mr Romney had worked with Mr Netanyahu as a young man and was ideologically close to him. It was also felt that he would have taken a more robust line on Iran.
Commitment to Israel
"Of all the challenges and threats Israel faces, it's most worried that Iran is closing in on a nuclear weapon," says the editor of The Times of Israel, David Horowitz.
"When you're facing what seems to be an existential threat every single international development is filtered through that, and most certainly the choice of the leader of the one country on earth that can credibly potentially rally international support and intervene militarily to stop Iran."
With Jewish Americans forming an important voting constituency, both presidential candidates had insisted on their commitment to Israel, which relies on the US as a key strategic ally. The country was mentioned repeatedly in the presidential debate on foreign policy.
However, Mr Horowitz points out that closer analysis did not reveal much difference between the two men on the issue of key importance.
"Both candidates were adamant in hammering home the point to the American electorate that they would seek to avoid military conflict in all arenas, at all costs," he says.
"That was I think very troubling for Israel. The less credible the American military threat on Iran, the more likely it is that Israel might have to resort to force."
Partner for peace?
Palestinian officials closely watching the same debate also found cause for concern, but for a different reason.
"The most annoying fact was that during the foreign policy debate, Israel was mentioned 32 times but Palestine and the peace process were really not mentioned even once," says Palestinian negotiator, Mohammed Shtayyah.
When President Obama appointed a special envoy to the Middle East in his early days in office and managed to get Israel and the Palestinians back to the negotiating table, expectations were raised.
Frustration then set in as direct talks broke down two years ago over the issue of Jewish settlements in the West Bank and East Jerusalem.
However, some Palestinian officials admitted they were rooting for Mr Obama after his rival made strongly pro-Israel comments.
In tapes of Mr Romney, secretly recorded when he was speaking to donors in Florida, he suggested the Palestinians had "no interest whatsoever in establishing peace".
On the topic of peace talks, he said: "We just kick the ball down the field and hope that ultimately, somehow, something will happen to resolve it."
A statement put out by the Palestinian Authority President, Mahmoud Abbas, after Mr Obama's victory specifically urged him to continue efforts to achieve peace in the region in the next four years.
"We are hoping that a second term in office might encourage him to get engaged, that the US will really take leadership on this issue with a knowledgeable team that can be an honest broker," Mr Shtayyah says.
Yet he adds that the Palestinian strategy of asking the United Nations General Assembly to admit Palestine as a non-member observer state will go ahead by the end of the month - despite US objections.
With Israeli officials threatening to respond by initiating a building drive in West Bank settlements, this region looks set to present Mr Obama with one of his first post-election foreign policy challenges.