Syria crisis: Damascus hit by deadly blasts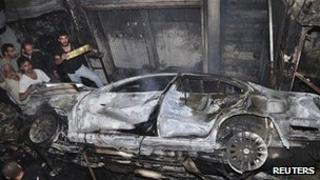 A spate of bomb attacks has rocked the Syrian capital Damascus leaving several people dead and many others wounded, activists have said.
At least 10 people reportedly died when several blasts struck an area populated mostly by members of President Bashar al-Assad's minority Alawite sect.
Hours later, a car bomb exploded near a mosque in the largely Sunni Muslim district of al-Qadam, activists said.
Early reports said there were many casualties but details were unclear.
The Syrian Observatory for Human Rights (SOHR), a UK-based activist group, said at least 10 civilians died and more than 40 were wounded when three devices were detonated in the largely-Alawite north-western Waroud suburb of the capital.
The official Sana news agency said several people had died.
Later on Tuesday, a bomb in a parked taxi went off near a mosque in al-Qadam destroying nearby buildings and burying people in the rubble, activists said.
"Lots of people were hit inside their apartments. Rescue efforts are hampered because electricity was cut off right after the explosion," activist Abu Hamza al-Shami told Reuters news agency.
Warplanes
Meanwhile, clashes, shelling, explosions and air raids were reported in different parts of Syria on Tuesday.
SOHR said seven people had been killed by government air raids in the Houla region of Homs province, and that eight people had died after troops shelled the town of Saraqeb in Idlib province.
Seven civilians also died when warplanes bombed the south-eastern Damascus suburb of Kafarbatna, it added.
The SOHR is one of the most prominent organisations documenting and reporting incidents and casualties in the Syrian conflict. The group says its reports are impartial, though its information cannot be verified.
Sana reported that Mohammed Osama Lahm, brother of the speaker of the People's Assembly, had been shot dead in the Midan district of Damascus.
Later this week, the opposition Syrian National Council (SNC) is to consider a US-backed proposal to set up a new 50-member leadership group that speaks for all major opposition factions and includes military commanders and local councils.
The SNC has been accused of being too fragmented, too heavily based upon exiles and unwilling or unable to attract support from minority groups inside Syria.
It would have a minority stake in the new leadership group, but some opposition figures are still sceptical that the effort will succeed.