Gaza: Crocodile caught in sewage system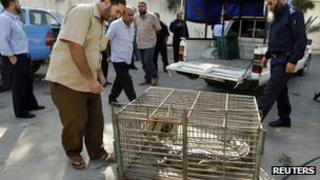 A crocodile which escaped from a zoo in the Gaza Strip two years ago has finally been captured, officials say.
Police enlisted the help of fishermen to drain the pit and catch the reptile with shark nets.
The animal, which locals have accused of eating their livestock, has been returned to the zoo.
The reptile, measuring 1.8m (6ft), had fled its enclosure and crawled into a sewage pit near the northern town of Beit Lahia.
Wastewater workers discovered the fugitive animal in one of the sewage basins two months ago.
"He had a lot of spirit in him. He wanted to be free," Lt Col Samih al-Sultan, who led the hunt, told the Associated Press.
The animal's strength and stubborn determination earned it the nickname "Rock", the official added.
A team of six policemen and fishermen sat in a boat in the pit for a fortnight, trying to catch the crocodile.
After several failed attempts, they eventually decided to drain the pond and managed to snare the reptile with shark nets.
Locals have welcomed the capture of the crocodile, which they say has been eating their ducks and goats.
"We were afraid he would eat us," said one farmer.
Zoo workers said the crocodile had grown considerably over the last two years. It remains unclear how the reptile managed to escape in the first place.