Tear gas fired to disperse Kuwait protesters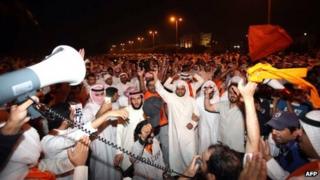 Kuwaiti security forces fired tear gas to disperse a protest on Sunday by thousands of opposition supporters.
Demonstrators had gathered on a road at Mishref, about 20km (12 miles) south of Kuwait City, after troops and police prevented a march in the capital.
Last month, the authorities banned gatherings of more than 20 people.
The organisers called Sunday's rally to express the opposition's rejection of changes to the electoral law ahead of parliamentary polls on 1 December.
A decree issued by Sabah al-Ahmed Al Sabah on 19 October reduced the number of votes cast by each Kuwaiti from four to one. Critics said this gave pro-government candidates an advantage.
The opposition, which had a majority in the National Assembly until the Constitutional Court declared February's elections illegal and reinstated the previous parliament, has said it will boycott next month's polls.
The organisers of Sunday's rally declared it a success despite security forces blocking its planned route along Arabian Gulf Street.
The opposition said as many as 100,000 supporters were able to get to the alternative location, but observers said there were far fewer.
The protesters gathered on the side of a motorway outside Mishref, but security forces quickly moved in and fired tear gas, and reportedly also stun grenades. Activists said dozens of people were arrested.
Former opposition MP Mubarak al-Waalan criticised the use of force.
However, Interior Minister Sheikh Ahmed al-Hamoud Al Sabah told the state news agency, Kuna: "Our duty is to maintain internal security and public order and to deter lawlessness in all of its forms."
Earlier on Sunday, Sheikh Sabah met four opposition figures in an effort to end the dispute over the electoral law.
Mohammed Hayef, a former opposition MP, wrote on Twitter afterwards that the emir had told them that he would accept a ruling by the Constitutional Court on the amendments he made by decree.