Israeli forces kill Palestinian near Gaza border fence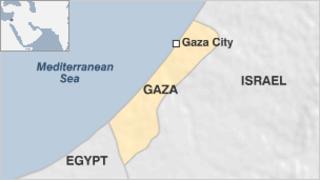 A Palestinian has died after being hit by Israeli gunfire as he approached Gaza's border fence with Israel.
The Israeli military said the man was shot after ignoring warnings to stop. Palestinian medics said the man was unarmed and mentally ill.
Israel prohibits anyone from entering the "buffer zone" it maintains inside Gaza to prevent attacks by militants.
The death on Sunday evening of the man, who was in his 20s, follows a recent escalation in cross-border violence.
In late October, six militants were killed by Israeli air strikes on the Hamas-run territory amid some of the heaviest rocket-fire into Israel from Gaza for months.
Four Israeli civilians were wounded in the attacks and a soldier was severely injured by a roadside bomb on the border fence.