Syria rebels 'take key Damascus-Aleppo checkpoints'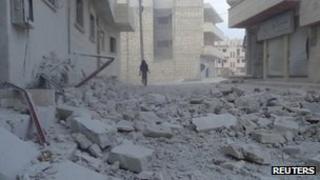 Rebel attacks on army checkpoints on the main road between Syria's biggest cities, Damascus and Aleppo, have left 28 government troops dead, reports say.
Five opposition fighters were also killed in the attacks, said the Syrian Observatory for Human Rights, a UK-based activist group.
They came as regime helicopters and jets carried out air strikes in eastern suburbs of the capital and elsewhere.
These often drop barrels of TNT, which are inaccurate but cause huge damage.
Helicopter gunships strafed an area of Damascus while warplanes were in action over the capital's suburbs and in north-western Idlib province, said the SOHR.
In the past few weeks, the military has stepped up the use of warplanes where ground forces have not been able to dislodge rebel fighters.
Exposed positions
The government soldiers were killed in attacks on three army checkpoints in Idlib, said the SOHR.
They said rebel fighters had overrun at least one of the checkpoints, near Saraqeb south-west of Aleppo, killing a large number of troops and seizing quantities of arms and ammunition.
The checkpoints are of considerable strategic importance, says the BBC's Jim Muir in neighbouring Lebanon, but the rebels are unlikely to try to hold them.
They are exposed positions, and government forces are sure to hit back with artillery and air strikes, adds our correspondent.
Opposition gains on the ground at Saraqeb, at nearby Maarat al-Numan and elsewhere are believed to be one of the main reasons for the sharp escalation in recent days of the regime's use of its monopoly of air power.
Maarat al-Numan straddles the Damascus-Aleppo motorway and has been under bombardment by government forces since it fell to rebels on 10 October.
In Damascus, meanwhile, state-run media Sana reported that a bomb hidden in a rubbish bag had exploded near a Shia Muslim shrine, killing 11 people and wounding 39.
Sana also reported that a car bomb in another Damascus suburb, Moaddamiya, caused several casualties.
The SOHR says more than 36,000 people - among them 25,667 civilians, 9,044 security forces personnel and 1,296 rebel fighters - have been killed since protests against Mr Assad erupted in March 2011.
The SOHR is one of the most prominent organisations documenting and reporting incidents and casualties in the Syrian conflict. The group says its reports are impartial, though its information cannot be verified.