Clinton warns Syria rebels to resist extremism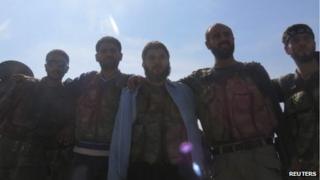 US Secretary of State Hillary Clinton has urged Syria's opposition to resist efforts by extremist groups to "hijack the revolution".
Speaking on a trip to Croatia, she said the rebel leadership needed to be more inclusive of those fighting in Syria.
The Turkey-based Syrian National Council (SNC) has been powerless to stop the escalating violence.
Mrs Clinton also revealed the Obama administration has suggested who should feature in the rebel leadership.
"There has to be a representation of those who are in the front lines fighting and dying," she told reporters.
"This cannot be an opposition represented by people who have many good attributes but who, in many instances, have not been inside Syria for 20, 30, 40 years."
The secretary of state said there had been "disturbing reports" of Islamic extremists entering Syria to try and take advantage of the uprising against President Bashar al-Assad
The rebels should "strongly resist the efforts by the extremists to hijack the Syrian revolution", she warned.
There have been reports of foreign Islamist fighters entering Syria to fight alongside the rebels, and hardline Salafist groups like the al-Nusra front have claimed responsibility for several bomb attacks.
Syria's disparate opposition groups are meeting in the Qatari capital Doha next week.
Mrs Clinton said Washington wanted to help the opposition to unite behind an effective strategy to move toward political transition in Syria.
Syria's rebels are divided on how best to achieve the overthrow of President Assad's government and what kind of state should come afterwards.